Letter on review of Math Instructional Materials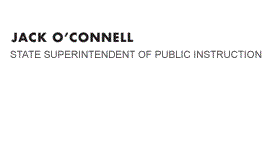 California Department of Education
Official Letter
California Department of Education
Official Letter
Dear County and District Superintendents and Charter School Administrators:
INFORMATION ON RECEIPT OF NEW INSTRUCTIONAL MATERIALS
The purpose of this letter is to share with county offices of education, districts, schools, and charter schools information regarding the review of instructional materials newly received from publishers.
Recently, the California Department of Education has received information from a number of school districts regarding inaccuracies within mathematics instructional materials. It would appear that in some cases school districts may have received textbooks printed prior to implementation of the final edits and corrections required by the State Board of Education. We have brought this matter to the attention of publishers. In the event that you discover errors in newly received instructional materials, please feel free to advise us accordingly, but you should also contact your publisher representative directly in order to resolve these issues as quickly as possible.
Informational accuracy of instructional materials is of the highest importance, and it is upheld by California Education Code (EC) Section 60045(a) which states: "all instructional materials adopted by any governing board for use in the schools shall be, to the satisfaction of the governing board, accurate, objective, and current and suited to the needs and comprehension of pupils at their respective grade levels." Additionally, EC Section 60061(4) provides that publishers shall "guarantee that all copies of any instructional materials sold in this state…are kept revised, free from all errors, and up to date as may be required by the state board."
We trust that you will find this information beneficial in your local efforts to utilize fully the instructional materials you have purchased.
If you have any questions regarding instructional materials, please contact David Almquist, Publisher Liaison, at 916-319-0444 or by e-mail at dalmquis@cde.ca.gov. You may also contact Veronica Aguila, Education Administrator, Instructional Resources Unit, at 916-323-4867 or by e-mail at vaguila@cde.ca.gov. [Note: the preceding phone number and e-mail address are no longer valid. For more information, please contact the Curriculum Frameworks and Instructional Resources Division at 916-319-0881.]
Sincerely,
GAVIN PAYNE
Chief Deputy Superintendent of Public Instruction
GP:da
Last Reviewed: Thursday, January 14, 2016