Environmental Education letter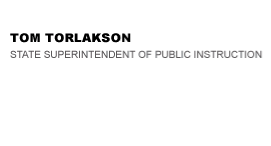 California Department of Education
Official Letter
California Department of Education
Official Letter
March 4, 2013
Dear Potential Applicants:
2013–14 ENVIRONMENTAL EDUCATION GRANT PROGRAM
REQUEST FOR APPLICATION
The purpose of this letter is to inform you that the California Department of Education (CDE) is soliciting applications for the Environmental Education Grant Program. A grant award of $20,000 to $40,000 per region will be awarded depending on availability of funding, for the period of July 1, 2013, through June 30, 2014.
The Request for Application (RFA) can be found on the CDE Funding Web page at http://www.cde.ca.gov/fg/fo. The RFA describes the Environmental Education Grant Program elements and contains instructions for applying, including the required attachments.
Agencies and institutions eligible to apply for a grant include:
State and local agencies including cities, counties, regional boards and commissions
Regional conservation education centers
Local educational agencies
Nonprofit agencies, organizations, and institutions
Public universities and colleges, including community colleges
Regional educational research organizations
Other public or private agencies, organizations, and institutions (including libraries and museums) under the terms of the federal Environmental Education Act
All entities planning to submit an application are requested to submit the Letter of Intent to Apply by April 2, 2013. The application along with all required attachments must be received by April 30, 2013.
If you have any questions, please contact Anne Stephens, Education Programs Consultant, Science, Technology, Engineering, and Mathematics Office, by phone at 916-319-0241 or by e-mail at astephens@cde.ca.gov.
Sincerely,
Lupita Cortez Alcalá, Deputy Superintendent
Instructional and Learning Support Branch
LA:jg
Last Reviewed: Monday, May 2, 2016