Ltr2f-09: APTFR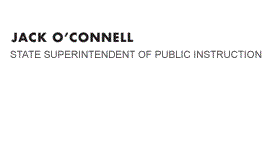 California Department of Education
Official Letter
California Department of Education
Official Letter
Dear Select County Superintendents of Schools and Treasurers:
NOTICE OF THE SECOND APPORTIONMENT FOR THE FEDERAL ADVANCED
PLACEMENT AND INTERNATIONAL BACCALAUREATE TEST FEE PROGRAM
FISCAL YEAR 2009-10
This apportionment, in the amount of $877,687, is made from federal funds in support of the federal Advanced Placement and International Baccalaureate Test Fee Reimbursement Program. The funds are apportioned to local educational agencies (LEAs) in reimbursement of student test fees. The payment to each LEA is based on the number of eligible, low-income high school students taking advanced placement and international baccalaureate examinations.
County superintendents of schools are requested to inform LEAs, including direct-funded charter schools, immediately of this apportionment. Warrants will be mailed to each county treasurer approximately four weeks from the date of this Notice. For standardized account code structure coding, use Resource Code 0000, Unrestricted, and Revenue Object Code 8290, All Other Federal Revenue. To view the schedule of apportionment, please visit the California Department of Education (CDE) Categorical Allocations Web page at http://www.cde.ca.gov/fg/aa/ca/.
Direct-funded charter schools must apply individually for this program. The amount for direct-funded charter schools is identified separate from the district or county amount. All other charter schools must apply through their authorizing agency and the associated funding is included in the district or county amount.
The amount of reimbursement requested by school districts in their applications exceeded the total funds originally available in 2009-10. Consequently, each LEA was paid in the first apportionment, which was released in January 2010, a pro-rated amount equal to 58 percent of each LEA's total entitlement. Recently, the CDE received an increase in its federal grant award in an amount sufficient to increase each LEA's payment to 72 percent of its total entitlement. This apportionment allocates that additional funding.
The United States Department of Education award number is S330B090008. The Catalog of Federal Domestic Assistance subprogram number is 84.330B. The funding is appropriated in Item 6110-240-0890 of the Budget Act of 2009 (Chapter 1, Statutes of 2009, Third Extraordinary Session as amended by Chapter 1, Statutes of 2009, Fourth Extraordinary Session). The California sub-allocation (pass-through) number is Program Cost Account 14831.
If you have any questions regarding the program or the apportioned amounts, please contact Marjorie McConnell, Program Consultant, Intersegmental Relations Unit, by phone at 916-323-5830 or by e-mail at mmcconne@cde.ca.gov, or Maria Romo, Program Analyst, Intersegmental Relations Unit, by phone at 916-324-5634 or by e-mail at mromo@cde.ca.gov [Note: the preceding contact information is no longer valid.] Questions concerning the payment process should be directed to Janice Huarte, Fiscal Analyst, Categorical Programs Unit, by phone at 916-322-9128 or by e-mail at jhuarte@cde.ca.gov [Note: the preceding contact information is no longer valid and has been replaced by Julie Klein Briggs, Fiscal Consultant, Categorical Allocations & Management Assistance Unit, by phone at 916-323-6191 or by e-mail at jbriggs@cde.ca.gov.].
Sincerely,
Susan Lange, Deputy Superintendent
Finance, Technology, and Administration Branch
Last Reviewed: Thursday, July 30, 2015