Ltr1-08: Community-Based English Tutoring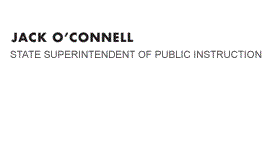 California Department of Education
Official Letter
California Department of Education
Official Letter
Dear Select County Superintendents of Schools, Auditors, and Treasurers:
Notice of Apportionment for the
Community-Based English Tutoring Program
Fiscal Year 2008-09
This apportionment, in the amount of $49,994,879, has been made from funds provided in Item 6110-227-0001 of the Budget Act of 2008 (Chapter 268, Statutes of 2008) as amended by Assembly Bill 88 (Chapter 269, Statutes of 2008) for the Community-Based English Tutoring (CBET) Program in accordance with California Education Code sections 315 through 317 and the California Code of Regulations, Title 5, Education, sections 11315, 11315.5, and 11315.6. This apportionment is based on the number of limited English proficient students identified in the Annual Language Census (Form R30-LC) of April 2008. The purpose of the CBET funds is to provide free or subsidized programs of adult English language instruction to parents or other members of the community who pledge to provide English language tutoring to California school children with limited English proficiency.
Warrants will be mailed to each county treasurer approximately three weeks from the date of this Notice. Each county treasurer shall immediately deposit the amount received into the General Fund of each participating local educational agency. For standardized account code structure (SACS) coding, use Resource Code 6285, Community-Based English Tutoring, and Revenue Object Code 8590, All Other State Revenue.
If you have any questions regarding this apportionment, please contact Pamela Lucas, Analyst, Language Policy and Leadership Office, at 916-319-0610 or by e-mail at plucas@cde.ca.gov. Questions concerning the program should be directed to Paul Garcia, Program Consultant, Language Policy and Leadership Office, at 916-323-5467 or by e-mail at pgarcia@cde.ca.gov [Note: the preceding contact information is no longer valid.] For additional program information, visit the Funding Profile on the California Department of Education Web site at http://www.cde.ca.gov/fg/fo/profile.asp?id=1301.
Sincerely,
Susan Lange, Deputy Superintendent
Finance, Technology, and Administration Branch
Last Reviewed: Monday, September 12, 2016