Ltr-08: COE Fiscal Oversight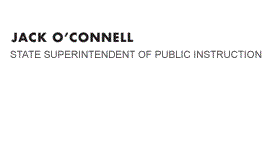 California Department of Education
Official Letter
California Department of Education
Official Letter
Dear Select County Superintendents of Schools, Auditors, and Treasurers:
NOTICE OF APPORTIONMENT FOR ASSEMBLY BILL 1200 COUNTY
OFFICES OF EDUCATION FISCAL OVERSIGHT, FISCAL YEAR 2008-09
This apportionment, in the amount of $4,360,000, has been made from funds provided in Item 6110-107-0001(1) of the Budget Act of 2008 (Chapter 268 as amended by Chapter 269, Statutes of 2008) and is for the purpose of funding county offices of education for any new program or higher level of service required by the district oversight provisions of Assembly Bill 1200 (Chapter 1213, Statutes of 1991).
Estimated entitlements for each local educational agency (LEA) are based on rate of $0.395485 per unit of 2006-07 Annual "Other Purpose" average daily attendance (ADA) with minimum funding of $87,200. This apportionment reflects 80 percent of the estimated entitlement. Final entitlements will be calculated using 2007-08 Annual "Other Purpose" in spring 2009, resulting in a revised rate. The remaining funds will be released in a second apportionment.
Warrants will be mailed to each county treasurer approximately three weeks from the date of this notice. The treasurer of each county shall immediately deposit the amount received to the County School Service Fund of the county superintendent of schools. For standardized account code structure (SACS) coding, use Resource Code 0000, Unrestricted Resource, and Revenue Object Code 8590, All Other State Income.
If you have any questions regarding this apportionment, please contact Terri Emery, Analyst, School Fiscal Services Division, at 916-319-0305 or by e-mail at temery@cde.ca.gov [Note: the preceding contact information is no longer valid and has been replaced by Kathy Mathews, Consultant, School Fiscal Services Division, at 916-322-1647 or by e-mail at kmathews@cde.ca.gov.].
Sincerely,
Susan Lange, Deputy Superintendent
Finance, Technology, and Administration Branch
SL:te
Enclosures
Last Reviewed: Monday, October 6, 2014