Ltr1-12: County of Education Fiscal Oversight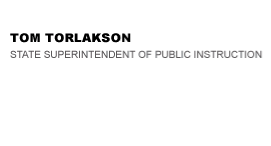 California Department of Education
Official Letter
California Department of Education
Official Letter
Dear Select County Superintendents of Schools:
NOTICE OF FIRST APPORTIONMENT FOR ASSEMBLY BILL 1200
COUNTY OFFICES OF EDUCATION FISCAL OVERSIGHT
FISCAL YEAR 2012–13
This apportionment, in the amount of $3,495,999, is made from funds provided by Schedule 1 of Item 6110-107-0001, County Offices of Education Fiscal Oversight, of the Budget Act of 2012 (Chapter 21, Statutes of 2012), and is for the purpose of funding county offices of education (COE) for any new program or higher level of service required by the district oversight provisions of Assembly Bill 1200 (Chapter 1213, Statutes of 1991).
Estimated entitlements for each COE are based on a rate of $0.317751 per unit of fiscal year 2010–11 Annual "Other Purpose" average daily attendance (ADA) as certified on July 3, 2012, with minimum funding of $69,920. This apportionment reflects 80 percent of each COE's estimated entitlement, which includes the reduction in Control Section 12.42 of the Budget Act of 2012. Final entitlements will be calculated using fiscal year 2011–12 Annual "Other Purpose" ADA in the spring of 2013, resulting in a revised rate. The remaining funds will then be released in a second apportionment.
Select county superintendents of schools were notified of this apportionment by e-mail which was sent to their CDEfisc e-mail addresses. The e-mail contained a link to the California Department of Education's Web site at http://www.cde.ca.gov/fg/aa/ca/ab1200coeoversght.asp where the letter and schedule for this apportionment are posted.
Warrants will be mailed to each county treasurer approximately three weeks from the date of this notice. The treasurer of each county shall immediately deposit the amount received to the County School Service Fund of the county superintendent of schools. For standardized account code structure coding, use Resource Code 0000, Unrestricted Resource, and Revenue Object Code 8590, All Other State Income.

If you have any questions regarding this apportionment, please contact Kathy Mathews, Consultant, School Fiscal Services Division, by phone at 916-322-1647 or by e-mail at kmathews@cde.ca.gov.
Sincerely,
Jeannie Oropeza, Deputy Superintendent
Services for Administration, Finance, Technology, and Infrastructure Branch
Last Reviewed: Tuesday, April 22, 2014