Ltr2-09: Economic Impact Aid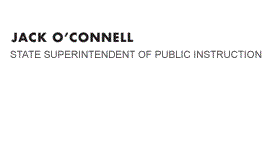 California Department of Education
Official Letter
California Department of Education
Official Letter
Dear County Superintendents of Schools, Auditors, and Treasurers:
NOTICE OF FIRST APPORTIONMENT
FOR THE ECONOMIC IMPACT AID PROGRAM
FISCAL YEAR 2009–10
This apportionment, in the amount of $185,923,109, is made from funds provided by Item 6110-128-0001 of the Budget Act of 2009 (Chapter 1, Statutes of 2009). These funds support the Economic Impact Aid (EIA) program pursuant to California Education Code sections 54020 through 54028.
County superintendents of schools are requested to immediately notify the local educational agencies (LEAs) in their county of the information included in this apportionment. This letter, along with the Schedule of Apportionment that shows the apportionment amount for each LEA, is posted on the California Department of Education Web site at http://www.cde.ca.gov/fg/fo/r14/eia09result.asp.
This apportionment equals 20 percent of the school districts estimated 2009–10 entitlement; the estimate is based on each district's 2008–09 EIA entitlement. The next 20 percent payment, to be made in November, will be based on the actual 2009–10 entitlement. For 24 counties, this apportionment also reflects an offset for an overpayment in the June 2009 EIA apportionment, shown as "2008–09 Funds Offset from PCA 23654" in the Schedule of Apportionment. Note, EIA funds are no longer allocated through the Special Purpose Apportionment.
There is no restriction on the amount of EIA funds that may be carried over from year to year. For standardized account code structure (SACS) coding, use Resource Code 7090, Economic Impact Aid (EIA), or Resource Code 7091, Economic Impact Aid (EIA) English Learner or Limited English Proficient, and Revenue Object Code 8311, Other State Apportionments-Current Year.
If you have any questions regarding this apportionment, please contact Ross Valentine, Consultant, Categorical Allocations & Audit Resolution Unit, at 916 327-4405 or by e‑mail at rvalenti@cde.ca.gov. [Note: the preceding contact is no longer valid and has been replaced by, Principal Apportionment and Special Education Office, by phone at 916 324-4541 or by e-mail at pase@cde.ca.gov.]
Sincerely,
Susan Lange, Deputy Superintendent
Finance, Technology, and Administration Branch
Last Reviewed: Monday, January 9, 2017