Ltr1-09: English Language Acquisition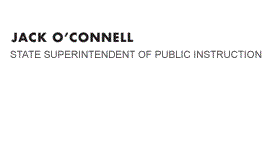 California Department of Education
Official Letter
California Department of Education
Official Letter
Dear County Superintendents of Schools and Treasurers:
NOTICE OF THE FIRST APPORTIONMENT FOR THE
ENGLISH LANGUAGE ACQUISITION PROGRAM
FISCAL YEAR 2009–10
This apportionment, in the amount of $50,549,000, is made from funds provided for the English Language Acquisition Program (ELAP) by Item 6110-125-0001(2) of the Budget Act of 2009 (Chapter 1 of the Third Extraordinary Session and Chapter 1 of the Fourth Extraordinary Session, Statutes of 2009). Funding is provided to participating local educational agencies (LEAs) for each eligible pupil enrolled in any of grades four through eight, pursuant to the California Education Code (EC), commencing with Section 400. These funds are to be used to conduct academic assessments, provide instructional programs and supplemental instructional support, and coordinate services and funding sources for English learners (ELs).
This apportionment pays 100 percent of the ELAP funding to LEAs for fiscal year 2009–10, equal to $104.62 for each pupil identified as an EL enrolled in any of grades four to eight, inclusive, as reported by the LEAs in the Language Census (R30-LC) due in March 2009.
Charter schools that receive funding through the Charter School Categorical Block Grant, allocated as part of the principal apportionment, are not eligible to receive funds from ELAP; ELAP is one of the programs for which block grant funded charter schools may not apply separately, pursuant to EC Section 47634.4.
For standardized account code structure (SACS) coding, use Resource Code 6286, English Language Acquisition Program, Teacher Training and Student Assistance, and Revenue Object Code 8590, All Other State Revenue.
County superintendents of schools are requested to inform their LEAs immediately regarding this apportionment. Warrants will be mailed to each county treasurer approximately four weeks from the date of this Notice.
To view the schedule of apportionment, please visit the California Department of Education Categorical Programs Web site at http://www.cde.ca.gov/fg/fo/r14/elap09result.asp.
If you have any questions regarding this apportionment, please contact Pamela Lucas, Program Analyst, Language Policy and Leadership Office, at 916-319-0610 or by e-mail at plucas@cde.ca.gov. Questions concerning the payment process should be directed to Nancy Cook, Fiscal Analyst, Categorical Allocations and Audit Resolution Office, at 916-324-4549 or by e-mail at ncook@cde.ca.gov [Note: the preceding contact information is no longer valid.]
Sincerely,
Susan Lange, Deputy Superintendent
Finance, Technology, and Administration Branch
Last Reviewed: Tuesday, April 5, 2016