Ltr1-08: Instr Materials Funding Realignment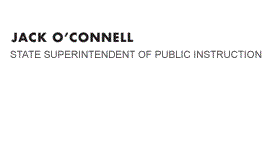 California Department of Education
Official Letter
California Department of Education
Official Letter
Dear County Superintendents of Schools, Auditors, and Treasurers:
NOTICE OF THE FIRST APPORTIONMENT FOR THE
INSTRUCTIONAL MATERIALS FUNDING REALIGNMENT PROGRAM
FISCAL YEAR 2008-09
This apportionment, in the amount of $375,831,900, is made from funds provided in Item 6110-189-0001 of the Budget Act of 2008 (Chapter 268, Statutes of 2008), as amended by Assembly Bill 88 (Chapter 269, Statutes of 2008), in support of the Instructional Materials Funding Realignment Program (IMFRP).
The amount paid in this apportionment reflects 90 percent of the entitlement for each eligible agency. The total entitlement for each eligible agency is based on a rate of $69.41 per pupil enrolled in kindergarten and grades one through twelve as reported in the October 2007 California Basic Educational Data System report. The remaining ten percent balance of each agency's entitlement will be paid in spring 2009.
The IMFRP is included in the charter school block grant funding model pursuant to California Education Code (EC) Section 47633 et seq. Therefore, charter schools that are participating in the funding model will receive their funding for this program as part of the categorical component of their charter school block grant, which is allocated as part of the principal apportionment. Charter schools that are not participating in the charter school block grant funding model will receive their funding for this program through their chartering agency.
Pursuant to EC Section 60422(a), the IMFRP funding and all interest earned must be used to ensure that each pupil is provided with a standards-aligned textbook or basic instructional materials, as adopted by the State Board of Education for kindergarten and grades 1 to 8, inclusive, or as adopted by the local governing board pursuant to EC sections 60400 and 60411, for grades 9 to 12, inclusive.
Warrants will be mailed to county treasurers approximately four weeks from the date of this Notice. For standardized account code structure (SACS) coding, use Resource Code 7156, Instructional Materials Realignment, IMFRP (AB 1781), and Revenue Object Code 8590, All Other State Revenue. County superintendents of schools are requested to inform local education agencies (LEAs) immediately of this apportionment.
To view the schedule of apportionment showing, by county, the amount each agency is receiving in this apportionment, please visit the California Department of Education (CDE) Web site at http://www.cde.ca.gov/fg/aa/ca/.
If you have any questions concerning the expenditure of IMFRP funds, please contact Susan Martimo, Education Programs Consultant, Instructional Resources Unit, at 916-319-0446 or by e-mail at smartimo@cde.ca.gov. If you have questions regarding this apportionment, please contact Shirley Burkett, Fiscal Analyst, Categorical Programs Unit, at 916-323-1385 or by e-mail at sburkett@cde.ca.gov [Note: the preceding contact information is no longer valid and has been replaced by Janet Finley, Education Fiscal Services Consultant, Categorical Allocations & Management Assistance Unit, by phone at 916-323-5091 or by e-mail at jfinley@cde.ca.gov.]
Sincerely,
Susan Lange, Deputy Superintendent
Finance, Technology, and Administration Branch
Last Reviewed: Wednesday, January 18, 2017