Ltr3-10: K3CSR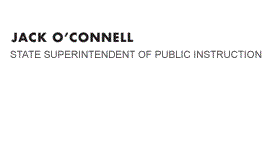 California Department of Education
Official Letter
California Department of Education
Official Letter
December 1, 2010
Dear County Superintendents of Schools:
NOTICE OF THE ADVANCE APPORTIONMENT FOR THE
KINDERGARTEN AND GRADES ONE THROUGH THREE
CLASS SIZE REDUCTION PROGRAM
FISCAL YEAR 2010-11
This apportionment, in the amount of $364,507,195, is made from funds provided in Section 40 of Chapter 724, Statutes of 2010. The advance apportionment calculated for each school district or charter school equals 25 percent of the fiscal year 2009-10 pupil enrollment counts submitted on the Form J-7CSR, multiplied by the fiscal year 2010-11 rates of $1,071 per pupil for Option One (full day) and $535 per pupil for Option Two (half-day), as provided by California Education Code (EC) Section 52126(g)(1).
Beginning in fiscal year 2010-11, letters of apportionment from the California Department of Education's (CDE) School Fiscal Services Division are no longer being mailed to the county superintendents of schools. Instead, county superintendents are being notified of each apportionment by e-mail. Accordingly, the CDE has sent an e-mail to each county superintendent, addressed to the county's CDEfisc e-mail address, to inform him or her of this apportionment. The e-mail contained a link to the CDE Categorical Programs Web page at http://www.cde.ca.gov/fg/aa/ca/ where, under the program name and fiscal year 2010-11, the letter and schedule for this apportionment are posted. The CDE requested that the e-mail be forwarded to the school districts and charter schools in the county.
Direct-funded and locally funded charter schools that applied for the Kindergarten and Grades One through Three Class Size Reduction (K-3 CSR) Program on their own behalf are listed separately on the apportionment schedule. Funding for charter schools that did not apply on their own behalf is included in the authorizing entity's entitlement if that entity included charter school enrollment data on its 2009-10 Form J-7 CSR and that charter school is still eligible to be included on its authorizing entity's application.
Section 37 of Assembly Bill 2 of the Fourth Extraordinary Session (ABX4 2) requires that categorical funding allocations to basic aid school districts in fiscal year 2010-11 be reduced by the lesser of: (1) the district's 2009-10 total revenue limit subject to the deficit factor, calculated as of the 2009-10 certified second principal apportionment, multiplied by 5.81 percent or (2) the amount of the district's excess taxes. In implementation of ABX4 2, we have reduced the amount paid to basic aid districts in this apportionment. The amounts reduced are shown on the schedule of apportionment.
The apportionment reduction for basic aid school districts applies to fiscal year 2010-11only and their entitlement to funds in subsequent years for this program will not be affected. To view the list of basic aid districts and the total amount to be reduced from their 2010-11 categorical funding allocations, please go to the CDE Web page at http://www.cde.ca.gov/fg/aa/ca/documents/basicaidcut2010.xls (XLS; 43KB; 3pp.).
Warrants will be mailed to each county treasurer approximately four weeks from the date of this Notice. For standardized account code structure coding, use Resource Code 1300, Class Size Reduction, Grades K-3, and Revenue Object Code 8434, Class Size Reduction, Grades K-3.
All school districts and charter schools intending to continue the K-3 CSR Program must submit an Operations Application each year. If a school district or charter school fails to submit a fiscal year 2010-11 application by the statutory deadline of January 6, 2011 (postmarked), eligibility for K-3 CSR Program funding for fiscal year 2010-11 is forfeited and the amount processed in this advance apportionment will be recovered. The amount shall be deducted from the school district's or charter school's next monthly principal apportionment payment after the application deadline, as provided by EC Section 52126(g)(2).
The estimated 2010-11 pupil enrollment counts submitted on the 2010-11 Operations Application will be used to calculate provisional funding (estimated entitlements) for school districts and charter schools. A payment of 55 percent of these estimated entitlements less the amounts paid in this advance apportionment will be made in February 2011.
Final entitlements for the 2010-11 K-3 CSR Program will be calculated and adjustments made to provisional funding after actual enrollment is reported on the 2010-11 Form J-7CSR to the CDE in May 2011. The final apportionment (or recovery) will be paid in July 2011. Details regarding the submission of the Form J-7CSR will be posted to the K-3 CSR Web page at a later date.
If you have any questions regarding the K-3 CSR Program or this payment, please contact Rebecca Lee, Fiscal Consultant, Categorical Allocations and Management Assistance Office, by phone at 916-324-4533 or by e-mail at relee@cde.ca.gov.
Sincerely,
Susan Lange, Deputy Superintendent
Finance, Technology, and Administration Branch
Last Reviewed: Monday, March 3, 2014