Ltr10-07: K-3 CSR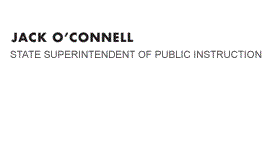 California Department of Education
Official Letter
California Department of Education
Official Letter
Dear County Superintendents of Schools, Auditors, and Treasurers:
NOTICE OF REVISION OF THE FINAL APPORTIONMENT FOR THE
KINDERGARTEN AND GRADES ONE THROUGH THREE
CLASS SIZE REDUCTION PROGRAM
FISCAL YEAR 2007-08
This apportionment, in the amount of $334,648, is made from funds provided by Item6110-234-0001 of the Budget Act of 2007 (Chapters 171 and 172, Statutes of2007) in support of the Kindergarten and Grades One through Three Class Size Reduction (K-3CSR) Program.
County superintendents of schools are requested to immediately inform each affected school district and charter school of this apportionment. To view the schedule of apportionment showing amounts being paid to school districts and charter schools, please visit the California Department of Education (CDE) Web page at http://www.cde.ca.gov/fg/aa/ca/k3csr.asp. Direct-funded and locally funded charter schools that applied for the K-3 CSR Program on their own behalf are listed separately on the apportionment schedule. Funding for charter schools that did not apply on their own behalf is included in the authorizing entity's entitlement if the entity included charter school enrollment data in its FormJ-7CSR.
The apportionment for each school district or charter school is based on actual enrollment, at reduced per pupil rates, in participating classes as submitted on the revised Form J-7CSR, less any amounts received in the October 2007 Advance Apportionment, the February2008 Provisional Apportionment, and the December 2008 and April 2009 payments of the Final Apportionment. Funding for the K-3 CSR Program was reduced by $32.0 million through legislation in February 2008, and sufficient funding is not available to fully fund the program at the original rates of $1,071 and $535 per pupil for Options 1 and 2, respectively. In order to fund the program within existing resources, per pupil rates are reduced to 99.85 percent of the original rates (a 0.15percent decrease) to $1,069 and $534 per pupil for Options 1 and 2, respectively. The CDE has submitted to the state Department of Finance a request for additional K-3CSR funding in order to fully fund the program.
Warrants will be mailed to each County Treasurer approximately four weeks from the date of this Notice. For standardized account code structure coding, use Resource Code 1300, Class Size Reduction, Grades K-3 or Resource Code 0000, Unrestricted, and Revenue Object Code 8434, Class Size Reduction, Grades K-3.
If you have any questions regarding this apportionment, please contact Rebecca Lee, Fiscal Consultant, Categorical Allocations and Management Assistance Office, at 916-324-4533 or by e-mail at relee@cde.ca.gov.
Sincerely,
Susan Lange, Deputy Superintendent
Finance, Technology, and Administration Branch
Last Reviewed: Thursday, October 2, 2014