Ltr1-08: Quality Education Investment Act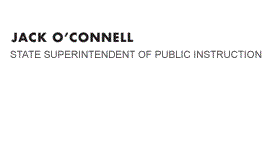 California Department of Education
Official Letter
California Department of Education
Official Letter
Dear County Superintendents of Schools, Auditors, and Treasurers:
NOTICE OF THE FIRST APPORTIONMENT FOR THE
QUALITY EDUCATION INVESTMENT ACT OF 2006
FISCAL YEAR 2008-09
This apportionment, in the amount of $305,932,640, is made from funds provided by Senate Bill 1133 (Chapter 751, Statutes of 2006) in support of the Quality Education Investment Act (QEIA) of 2006 and the program it established in California Education Code (EC) sections 52055.700 through 52055.770.
The funds are intended for a variety of purposes as follows: implement the terms of the proposed settlement agreement in California Teachers Association, et.al. v. Arnold Schwarzenegger, et.al; discharge the minimum state educational funding requirement, as specified, for fiscal years 2004-05 and 2005-06; improve the quality of academic instruction and achievement in schools that have high poverty rates and in which pupils have complex educational needs; develop exemplary school district and school practices that create working and learning environments that attract and retain high-quality staff; and focus school resources solely on instructional improvement and services to pupils. Funds may be expended for any purpose identified under the schoolsite's Single Plan for Pupil Achievement established under EC 64001.
The school districts and chartering authorities receiving this funding are those that applied for program funding in fiscal year 2007-08, the first year of the program, on behalf of their elementary, secondary, and charter schools that met the eligibility requirements pursuant to EC Section 52055.720, and that were approved for program participation by the State Board of Education in its May 2007 meeting. A school selected in the first year of the program continues participating in the program unless it is terminated pursuant to subdivision (c) of EC Section 52055.740, it declines to participate, or there is evidence of fraud or fiscal irregularities. Funded schools receive funding each year beginning in 2007-08 and continuing through 2013-14.
School districts and chartering authorities with jurisdiction over selected schools have agreed to a number of program requirements that are spelled out in the program statute. In addition, county superintendents of schools are required to annually review the schools in their county and the schools' data for compliance with program requirements and timelines.
School districts and chartering authorities are to receive on behalf of selected schools funds at a rate of $500 per pupil in kindergarten through grade three, $900 per pupil in grades four through eight, and $1,000 per pupil in grades nine through twelve. The pupil counts used to calculate each year's funding are based on each funded school's prior year enrollment as reported in the California Basic Educational Data System (CBEDS).
In 2008-09, each participating school district and chartering authority will be paid in two installments: (a) 80 percent in this apportionment; and (b) 20 percent in January 2009. The schedule of apportionment includes funds for selected charter schools in the school district or chartering authority amount. To view the schedule for this apportionment showing, by county, the payment to each school district and chartering authority, please visit the California Department of Education Categorical Programs Web site at http://www.cde.ca.gov/fg/aa/ca/qeia.
Warrants will be mailed to each county treasurer approximately four weeks from the date of this Notice. For standardized account code structure (SACS) coding, use Resource Code 7400, Quality Education Investment Act, and Revenue Object Code 8590, All Other State Revenue.
If you have any questions regarding this program, please contact James Alford, Education Programs Consultant, Regional Coordination & Support Office, at 916-319-0226 or by e-mail at jalford@cde.ca.gov [Note: the preceding contact information is no longer valid.]. Questions concerning this apportionment should be directed to Lorraine Jones, Program Analyst, High Priority Schools Office, at 916-324-3573 or by e-mail at ljones@cde.ca.gov [Note: the preceding contact information is no longer valid.] Questions concerning the payment process should be directed to Karen Almquist, Education Fiscal Services Assistant, Categorical Allocations & Management Assistance Unit, at 916-327-4406 or by e-mail at kalmquis@cde.ca.gov.
Sincerely,
Susan Lange, Deputy Superintendent
Finance, Technology, and Administration Branch
Last Reviewed: Thursday, November 20, 2014