Ltr2-07: Title IV, Safe and Drug-Free Schools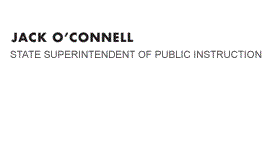 California Department of Education
Official Letter
California Department of Education
Official Letter
Dear County Superintendents of Schools, Auditors, and Treasurers:
NOTICE OF THE SECOND APPORTIONMENT FOR TITLE IV,
PART A, SAFE AND DRUG-FREE SCHOOLS AND COMMUNITIES, OF
THE NO CHILD LEFT BEHIND ACT OF 2001 (PL 107-110)
FISCAL YEAR 2007-08
This apportionment, in the amount of $1,368,082, is made to provide grants to local educational agencies (LEAs) for drug abuse and violence prevention programs from federal funds provided to the State under Title IV of the Elementary and Secondary Education Act of 1965 (ESEA), as amended by the No Child Left Behind (NCLB) Act of 2001 (PL 107‑110). It provides 40 percent of the entitlement for each approved LEA that met program requirements; the remaining 60 percent will be paid upon approval of Part II, of the 2007-08 Consolidated Application, showing that the LEA has adhered to the 25 percent carryover limit prescribed in federal law. The authorized activities that can be funded from this apportionment and other program requirements are shown in the Fact Sheet page to the Safe and Drug-Free Schools and Communities Web site at http://www.cde.ca.gov/ls/he/at/sdfsc.asp [Note: the preceding Web address is no longer valid.].
To view the schedule of apportionment showing, by county, the payment to each county office, school district, and direct-funded charter school, please visit the California Department of Education (CDE) Categorical Programs Web site at http://www.cde.ca.gov/fg/aa/ca.
In accordance with federal law, 40 percent of available funding is allocated based on a rate of approximately $1.93561155 per October 2006 California Basic Educational Data System enrollment, and 60 percent is allocated based on the relative amount that LEAs received under Part A of Title I for the preceding fiscal year.
Direct-funded charter schools must apply individually for this program. Apportionment amounts for direct-funded charter schools are identified separate from the district or county amounts. All other charter schools must apply through their authorizing agency, and funding associated with the charter school is included in the district or county amount.
The United States Department of Education (ED) award number is Q186A070005. The Catalog of Federal Domestic Assistance subprogram number is 84.186A. This grant award is subject to the provisions of Title IV of the ESEA, as applicable, and the General Education Provisions Act (PL 107-110). This grant is also subject to the regulations in Part 299 of Title 34 of the Code of Federal Regulations (CFR) and the Education Department General Administrative Regulations in 34 CFR Parts 74, 76-77, 79-82, 85, and 97-99. The funding is appropriated in Item 6110-183-0890 of the Budget Act of 2007 (Chapter 171, Statutes of 2007). The California sub-allocation (pass‑through) number is Program Cost Account (PCA) 14347.
Under the federal Tydings Amendment, Section 421(b) of the General Education Provisions Act 20.20 U.S.C. 1225(b), any funds that are not obligated at the end of the federal funding period July 1, 2007, through September 30, 2008, shall remain available for obligation for an additional period of 12 months, to September 30, 2009.
In order to comply with federal cash management requirements, LEAs must expend federal funds in a timely manner. Although the Tydings Amendment provides specific timelines governing the expenditure/encumbrance of program funds, federal guidelines discourage the release of additional funding to LEAs that have not spent the dollars previously apportioned. LEAs are therefore requested to minimize the time frame between receipt and expenditure of federal program funds. The California Department of Education (CDE) reviews the amount of federal funds carried over from the prior fiscal year for each LEA; the release of future apportionments may be delayed for LEAs with significant balances.
Federal Title 34 CFR 80.21(i) also requires that any interest earned by LEAs on federal dollars be returned to the ED if the amount is in excess of $100. LEAs should forward interest payments for remittance to the ED to:
Cashier's Office
Fiscal and Administrative Services Division
California Department of Education
1430 N Street, Suite 2213
Sacramento, CA 95814-5901
To ensure proper posting of payments, please indicate the program's PCA number (PCA 14347) and identify the payment as "Federal Interest Returned."
Warrants will be mailed to each county treasurer approximately four weeks from the date of this Notice. For standardized account code structure (SACS) coding, use Resource Code 3710, NCLB: Title IV, Part A, Drug-Free Schools, and Revenue Object Code 8290, All Other Federal Revenue. County superintendents of schools are requested to inform LEAs immediately regarding this apportionment.
If you have any questions regarding the program or use of program funds, please contact Lynette Mayhew, Program Analyst, Safe and Healthy Kids Program Office, at 916-319-0198 or by e-mail at lmayhew@cde.ca.gov [Note: the preceding information is no longer valid and has been replaced by Shalonn Woodard, Program Analyst, Coordinated School Health and Safety Support Office, at 916-319-0197 or by e-mail at swoodard@cde.ca.gov.] If you have any questions regarding the payment amount, please contact Nancy Cook, Staff Services Manager I, Categorical Programs Unit, at 916-323-1314 or by e-mail at ncook@cde.ca.gov [Note: the preceding contact information is no longer valid and has been replaced by Shannon Reel, Fiscal Analyst, Categorical Allocations & Management Assistance Unit, at 916-319-0323 or by e-mail at sreel@cde.ca.gov.]
Sincerely,
Susan Lange, Deputy Superintendent
Finance, Technology, and Administration Branch
Last Reviewed: Monday, March 21, 2016