2006-07 CAHSEE Third Apportionment Schedule Ltr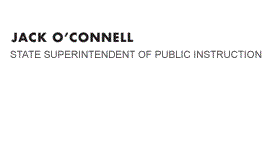 California Department of Education
Official Letter
California Department of Education
Official Letter
Dear Select County and District Superintendents, Charter School Administrators, County Treasurers, and District California High School Exit Examination Coordinators:
NOTICE OF THIRD APPORTIONMENT
CALIFORNIA HIGH SCHOOL EXIT EXAMINATION
2006-07 ADMINSTRATIONS
This letter is to notify you that an apportionment has been made to your district or charter school for the 2006-07 administrations of the California High School Exit Examination (CAHSEE). The CAHSEE apportionment is made from the state General Fund for participation in the CAHSEE in accordance with criteria specified in California Education Code Section 60851(a) to reimburse districts/charter schools for costs associated with the CAHSEE administrations. The State Controller will mail warrants to the appropriate county treasurer. CAHSEE apportionment funds are considered unrestricted and should be accounted for as Income Account or Revenue Object Code 8590 (Resource Code 0000) of the General Fund. The enclosed county listing provides the amount of the apportionment for the district or charter school.
This apportionment payment includes districts and charter schools that submitted waiver requests to the State Board of Education (SBE) to waive the December 31, 2007, state testing apportionment report deadline. The waiver requests for these districts and/or charters were approved by the SBE.
If you have any questions regarding this apportionment, please contact Mei Tan, Staff Services Analyst, Standards and Assessment Division, at 916-319-0346 or by e-mail at mtan@cde.ca.gov.
Sincerely,

/s/

Deb V. H. Sigman, Deputy Superintendent
Assessment and Accountability Branch
DS:mt
Enclosure
Last Reviewed: Tuesday, June 30, 2015