Ltr7-07: Cal-Safe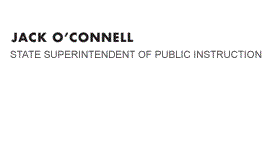 California Department of Education
Official Letter
California Department of Education
Official Letter
August 20, 2008
Dear Tulare County Superintendent of Schools, Auditor, and Treasurer:
NOTICE OF THE SEVENTH APPORTIONMENT FOR THE
CALIFORNIA SCHOOL AGE FAMILIES EDUCATION PROGRAM
FISCAL YEAR 2007-08
This apportionment, in the amount of $34,531, is made from funds provided in Item 6110-198-0001 of the Budget Act of 2007 (Chapter 171, Statutes of 2007) in support of the California School Age Families Education (Cal-SAFE) Program as established in the California Education Code (EC), commencing with Section 54740. Cal-SAFE funding provides support to pregnant and parenting teens and their children.
Local educational agencies (LEAs) that start new Cal-SAFE child care programs or expand the capacity of existing child care programs are eligible to receive one-time start-up funding pursuant to EC Section 54749(j). Child care start-up funding is limited to 15 percent of the funding generated by the projected enrollment of a new site (service level) or the incremental increase related to the expansion of an existing facility. Funding must be used for the approved start-up costs enumerated in EC Section 8275(a).
This apportionment is calculated based upon data received on the Cal-SAFE Program Application for Reimbursement of Start-Up Costs and constitutes 100 percent of the total start-up entitlement for each participating LEA. To view the schedule of apportionment, please visit the California Department of Education Categorical Programs Web site at http://www.cde.ca.gov/fg/aa/ca/.
Warrants will be mailed to county treasurers approximately four weeks from the date of this Notice. For standardized account code structure coding, please use Resource Code 6092, Cal-SAFE Child Care and Development Services, and Revenue Object Code 8590, All Other State Revenue.
If you have questions regarding the program, please contact Nancy Christophel, Associate Governmental Program Analyst, School Health Connections and Healthy Start Office, at 916-319-0541 or by e-mail at nchristo@cde.ca.gov. If you have questions regarding this apportionment, please contact Christina Schlueter, Fiscal Analyst, School Fiscal Services Division, at 916-324-9806 or by e-mail at cschlueter@cde.ca.gov [Note: the preceding contact information is no longer valid and has been replaced by Julie Klein Briggs, Fiscal Consultant, Categorical Allocations & Management Assistance Unit, by phone at 916-323-6191 or by e-mail at jbriggs@cde.ca.gov.].
Sincerely,
Susan Lange, Deputy Superintendent
Finance, Technology, and Administration Branch
Last Reviewed: Thursday, October 29, 2015