School Facilities Recommendations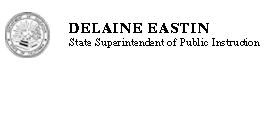 California Department of Education
Official Letter
California Department of Education
Official Letter
May 1998
To: District and County Superintendents
From: Ann M. Evans, Director
School Facilities Planning Division
Subject: School Facility Recommendations for Class Size Reduction
Over 84% of California's K-3 students are in a class of 20 or fewer students. The opportunity to implement this long-sought educational reform required districts to quickly find classrooms, teachers, and supplies. Districts responded with innovation and initiative to make the Class Size Reduction (CSR) program a success.
The Legislature and Governor recognized that facilities are an essential part of the Class Size Reduction Program and provided facility funding to assist districts in implementing CSR. For many districts, the funding covered only part of the expense of providing new classrooms. Some districts had to "create" classrooms out of libraries and other student support spaces. Several districts reduced the size of classrooms by creating three smaller classrooms out of two classrooms. Many districts also had to place additional classrooms at sites already lacking adequate playground space, thereby further limiting space for play area.
The initial implementation of CSR may have required districts to use classrooms less than the standard 960 square feet (sf); however, the California Department of Education encourages districts to make every effort to maintain the physical size of elementary classrooms at 960 sf and 1,350 sf for kindergarten. In addition, districts should carefully consider support facilities, and site size in implementing CSR.
Classroom Size
The California Department of Education (CDE) believes that a classroom of 960 sf best supports CSR. If the size of the classroom is too small, the full educational value of the lower class size may not be realized. A classroom of less than 960 sf may not provide sufficient space for pullout programs, small group work, or computer stations. Adequate area must be provided for the normal complement of furniture and technology, audiovisual equipment, student work areas, and storage. Additionally, classrooms must be of an adequate size to address movement and circulation, exiting, and handicapped access considerations.
Current California Code of Regulations, Title 5, Section 14030(g)(1)(A) states that classrooms be "960 square feet or an equivalent space that provides not less than 30 square feet per student." The current Title 5 regulations are based on an average of 30 students per classroom. The SFPD is pursuing revisions to the Title 5 Regulations which would establish 960 sf as the standard for all grade 1-6 classrooms.
The SFPD encourages districts to continue to use 960 sf classrooms for all students in grades 1-6 and 1,350 sf for kindergarten in order to provide students the greatest benefit of being in a class of 20 students. Until the revised Title 5 regulations are adopted, the SFPD will continue to require districts proposing to build new classrooms of less than 960 sf through the State School Building Program to submit written justification that the educational program can be delivered in classrooms of less than 960 sf (Title 5, Section 14030(g)(1)(B)).
Districts using other funding sources for new or reconstructed classrooms are also required to follow Title 5 Regulations but do not need to submit plans to the SFPD for review.
In addition to maintaining 960 sf classrooms for instructional reasons, districts should consider maintaining 960 sf classrooms in order to retain flexibility in scheduling and reassigning classes between the first through third grades and the higher grades in the future. A small classroom, (e.g., 600 sf) does not provide the flexibility necessary to allow the classroom to be used for 30 students in grades four through six should the needs change at the school site. Smaller classrooms, though intended to be temporary, have a way of becoming permanent -- and California is already near the bottom of the list of states in the square footage of building space allowed per pupil.
Kindergarten Classroom Size
California Code of Regulations, Title 5, Section 14030(2)(A), states that a permanent kindergarten classroom should not be less than 1,350 square feet. This area includes restrooms, storage, teacher preparation, and wet and dry areas. Additionally, Title 5, Section 14030(2)(G), states that "restrooms are self-contained within the classroom or within the kindergarten complex."
Districts implementing CSR in kindergarten may need to initially place kindergarten classes outside of the kindergarten complex, and in these situations districts must make every effort to provide these kindergarten students classrooms easy access to toilets and supervised play areas. New kindergarten classrooms must provide a learning environment similar to that offered in a district's existing kindergarten facilities.
Special Education Classroom Size
California Code of Regulations, Title 5, Section 14030(3)(D), requires that special education classrooms be at least the same size as regular education classrooms at the site and be properly equipped for the students who will occupy the room. Please refer to Education Code Section 17047 for special education classroom size.
Special education classrooms must not be segregated from other classrooms on the school site.
Support Facilities Issues
Class size reduction affects support facilities, and the following issues must be considered:
Toilets: Toilets must be located so that the distance a child must travel is appropriate for the age group. Also, due to the additional staff created by CSR, the adequacy of staff toilets should be evaluated based on the standards in Title 5. (California Plumbing Code Table 4-1).
Ventilation: Title 24 (Uniform Building Code) establishes standards for ventilation. Districts should also consider providing heating and cooling commensurate with the rest of the school.
Lighting: The lighting standards developed by the Illuminating Engineers Association should be considered in evaluating the adequacy of lighting. Lighting may have to be reconfigured to supply adequate light to each "new" space implemented for CSR.
Exiting/Fire Marshal Requirements: Title 24 prohibits occupants of a building exiting from one space through another. New layouts must be reviewed with both the local and State Fire Marshal to ensure safe exiting.
Self-Contained Classroom
The CSR law (Education Code Section 52123(f)) requires that by the 1998-99 school year, each class be housed in a separate, self-contained classroom or in a space that has the same square footage per student in each grade implementing CSR as was provided by the school for that grade in 1995-96. The School Facilities Planning Division defines a self-contained classroom as:
"a single teaching station with an individual teacher. It is an educational area designed for the instruction of students. By design it is spacious, functional, safe, well lighted and shaped for efficient instruction and supervision. It must be versatile and adaptable to an adopted course of study."
Site Size Issues
On a new elementary school site for 600 students, typically 20 classrooms would be required. A district fully implementing the 20:1 ratio for grades K-3 would now be required (without an increase in actual enrollment) to increase the number of general classrooms to 24. This would also necessitate a corresponding increase in support facilities such as additional offices, storage, parking, and toilets for the increased number of teachers. The increased facilities needed to implement CSR, then, necessitates that new school sites be larger.
The SFPD is updating the "School Site Analysis and Development" guidelines to reflect the additional land needed to accommodate CSR. The revised guidelines will indicate that an approximately 20% increase in site size will be necessary to accommodate the additional facilities needed for the increased number of teachers. It is anticipated that the updated guidelines will be available in the summer of 1998.
In areas where the site size recommended by the SFPD is difficult to acquire, multi-story construction and other space-saving designs should be considered.
In order to help provide districts with the resources needed to effectively implement CSR, the SFPD is:
actively working with the Office of Public School Construction (OPSC) and the legislature to make changes to the State School Building Program that will both recognize the change in the classroom loading standards and provide the necessary funding for the increased facility and site needs created by CSR;
updating its "School Site Analysis and Development" guidelines to reflect the additional land needed to accommodate CSR;
supporting a statewide school construction bond that will provide funding for CSR facilities and land.
I encourage you to call the SFPD consultant assigned to your county for any needed assistance in facility planning for Class Size Reduction. A list of the consultants assigned to each county is attached.
Encl: Title Five Summary for Elementary Schools
School Facilities Planning Division - County Assignments

Title 5 Summary for Elementary Schools*
Grade
Required Area
Other Considerations
Title 5 Reference
Kindergarten

1,350 Square Feet

Area includes restrooms, storage, and preparation and wet and dry areas.

Designed to allow easy supervision of classroom and play areas

Toilets within complex

14030(g)(2)(A) ;
14030(g)(2)(B); and
14030(g)(2)(A)
Grades 1-6.
960 Square Feet.

Some classroom should be easily alterable in size and shape.

Conduit/cabling and outlets are available for technology.

14030(g)(1)(A);
14030(g)(1)(3) ; and
14030(g)(1)(4)
Special Education
Equal to a standard classroom at the site and appropriate to serve the needs of the students assigned to the classroom.
Distributed throughout the campus
14030(g)(3)(D); and
14030(g)(3)(F)
*The above summary should be used for reference only. Please refer to Title 5 to ensure compliance with all regulations. A copy of Title 5 may be requested by calling the School Facilities Planning Division consultant assigned to your county or on the School Facilities Planning Division Web site: www.cde.ca.gov/ls/fa/index.asp
Last Reviewed: Monday, September 28, 2015