Hughes Middle Green Ribbon Selectee
---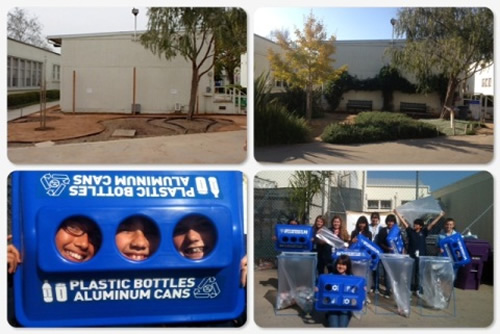 Charles Evans Hughes Middle School campus culture is characterized by environmental service projects by all students, staff, and community members, resulting in hundreds of students actively participating in eco-service projects each year. In 2012-2013 year alone, student service projects included No Trash Day, the America Recycles Book Drive, Campus Work Days, Eco-Gift Workshops and Holiday Bazaar, Rain Barrel Workshops, Backyard Bird Count, the Share the Love Clothing Drive, the Urban Run-off Public Service Announcement Project, a plant sale, the Earth Day Paper, Shred, and E-waste Drive, and a bottle and can drive.
Application

(PDF)
Last Reviewed: Friday, April 15, 2016
Recently Posted in Facilities
Assembly Bill 496 Funding for Fresh Drinking Water (updated 22-Sep-2016)
Assembly Bill 496: Pupil Nutrition Funding for Drinking Water requires the California Department of Education to identify available sources of funding to fund water quality and infrastructure projects for local educational agencies.
Green Ribbon Schools (DOC) (updated 07-Sep-2016)
This is the 2016-17 Green Ribbon Schools Award Application.