Hughes Middle Green Ribbon Selectee
---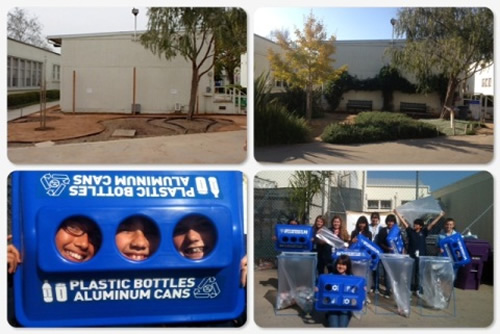 Charles Evans Hughes Middle School campus culture is characterized by environmental service projects by all students, staff, and community members, resulting in hundreds of students actively participating in eco-service projects each year. In 2012-2013 year alone, student service projects included No Trash Day, the America Recycles Book Drive, Campus Work Days, Eco-Gift Workshops and Holiday Bazaar, Rain Barrel Workshops, Backyard Bird Count, the Share the Love Clothing Drive, the Urban Run-off Public Service Announcement Project, a plant sale, the Earth Day Paper, Shred, and E-waste Drive, and a bottle and can drive.
Application

(PDF)
Last Reviewed: Monday, June 15, 2015
Recently Posted in Facilities
Assembly Bill 496 Funding for Fresh Drinking Water (added 31-Dec-2015)
Assembly Bill 496: Pupil Nutrition Funding for Drinking Water requires the California Department of Education to identify available sources of funding to fund water quality and infrastructure projects for local educational agencies.