CMIS Annual Monitoring Notification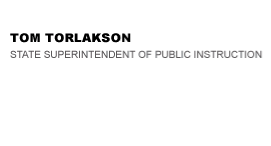 California Department of Education
Official Letter
California Department of Education
Official Letter
Dear Select District Superintendents:
NOTIFICATION TO LOCAL EDUCATIONAL AGENCIES OF
COMPLIANCE, MONITORING, INTERVENTION, AND SANCTIONS PROGRAM
ANNUAL MONITORING
This letter serves as official notification of the local educational agency's (LEA's) requirements under Title II, of the Elementary and Secondary Education Act (ESEA) of 2001.
The online reporting system will only accept data from October 1, 2014 to November 14, 2014. Please compile your teacher data in advance of entering the site to expedite the process. The enclosed spread sheet will offer detailed information of specific data that is needed to complete the data submission. To adhere to federal regulations, the data entered on this site will be used to create a report on equitable distribution and will be made available to the public.
On Wednesday, October 1, 2014, you will receive an e-mail from the Title II Leadership Mailbox containing information specific to your LEA, including the following:
An EDMS password
An LEA password
Detailed instructions for completing the entry of teacher and administrator retention and recruitment data
EDMS Upload Template
Failure to report during the EDMS window will result in your inability to draw down your Title II, Part A allocation for part or all of the 2014–15 grant period.
If you have questions regarding this notification, please contact the Title II Leadership Office by phone at 916-445-7331 or by e-mail at titleii@cde.ca.gov.
Sincerely,
/s/
Carrie Roberts, Director
Professional Learning Support Division

CR:kh
Enclosures
Last Reviewed: Thursday, February 12, 2015
Recently Posted in State Resources
SPSA Budget Planning Tool Sample (XLS) (added 07-Jun-2016)
A tool to assist with projecting estimated expenditures of SPSA goals against the Consolodiated Application.