Possible Federal Funding Reactions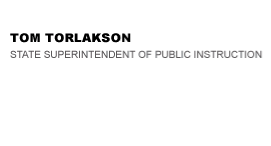 California Department of Education
Official Letter
California Department of Education
Official Letter
Dear County and District Superintendents, Direct-Funded Charter School Administrators, and County Chief Business Officers:
POSSIBLE FEDERAL FUNDING REDUCTIONS
As we prepare to begin a new school year, I want to offer you information on the sequestration process and alert you to the possibility that Congressional action may substantially affect your district's budget in the coming year. Though the exact impact of automatic sequestration cuts is still unknown and Congress may act to avoid the cuts altogether, it is important for you to be aware of the potential effect of the sequestration process in order to make informed and reasoned decisions for your staff, schools, and students.
In August 2011, Congress passed the Budget Control Act. This legislation directed a Congressional "Supercommittee" to trim federal spending by at least $1.2 trillion over the next decade. The Supercommittee's failure to present a specific program of spending reductions triggers automatic cuts through a process known as sequestration which applies an across-the-board percentage cut to most federal spending streams, including funding for most federal education programs.
A large number of variables could affect this process, if sequestration proceeds. First, the list of which programs will be exempted from cuts has yet to be finalized by the Administration. Second, the percentage reduction to be applied to each federal program is not yet known. Analysts and advocates have offered a wide range of estimates for the final impact of the cuts, from as low as 5.5 percent to as high as 9.1 percent. Many impartial sources and cabinet members, including Secretary of Education Arne Duncan, use the estimate of 7.8 percent. Finally, Congress may act before sequestration is implemented to replace the automatic cuts with a different deficit reduction scheme which could either increase or decrease these estimates and may change the timeline for reductions.
Despite the possibility of sequestration, your budget for the 2012–13 school year should not be affected. The U.S. Department of Education announced that funds for programs which receive advance appropriations, including Titles I and II of the Elementary and Secondary Education Act and the Individuals with Disabilities Education Act, will not be subject to sequestration when initially awarded to the states in October 2012. Instead, all sequestration cuts will be against the funds the State would receive in July 2013. However, the amount of the July 2013 reduction will be calculated by applying the sequester percentage to the fiscal year 2013 budgetary resources from both the 2012 advance appropriations (October 2012) and the 2013 regular appropriations (July 2013) that are available.
As a result, states and districts would not feel the impact of sequestration during the 2012–13 school year; however, the full reduction would affect their 2013–14 school year budget.
While the federal government recognizes the potential severity of these cuts, it is quite probable that Congress will not act until after the election to replace sequestration. You should also be aware that any compromise which repeals sequestration may also incorporate increased cuts to federal programs in areas such as education.
With so much uncertainty at the federal and state level, I would like to take this opportunity to urge districts to create a budget contingency plan in the event that sequestration is not repealed or the alternative plan agreed to by Congress makes significant cuts to education that will be felt in the 2013–14 school year and beyond. I realize this large number of unknowns may make it very difficult to plan and budget for the coming school year; however, I have directed California Department of Education staff members to continue to monitor potential outcomes of sequestration. We will update you as more information becomes available.
If you have any questions regarding this subject, please do not hesitate to contact me, or have your staff contact Erin Gabel [Note: the contact is now Monique Ramos], Director, Government Affairs Division, by phone at 916-319-0821 or by e-mail at egabel@cde.ca.gov [Note: the e-mail address is now mramos@cde.ca.gov]. [Note: the preceding individual is no longer the director of the Government Affairs Division. Please contact Debra Brown, Division Director of the Government Affairs Division, by phone at 916-319-0821 or by e-mail at DBrown@cde.ca.gov.]
Sincerely,
Tom Torlakson
TT:ewh
Last Reviewed: Friday, February 17, 2017
Recently Posted in Editorials & Letters
New Content in History–Social Science Framework (added 18-Jul-2017)
Letter to County and District Superintendents, Charter School Administrators, and High School Principals regarding the new content in the History–Social Science Framework for California Schools adopted by the Board of Education on July 14, 2016.
California Teachers Summit for 2017 (added 30-Jun-2017)
Letter to County and District Superintendents, Charter School Administrators, and Principals regarding the third annual Better Together: California Teachers Summit on July 28, 2017.
Career Technical Education Incentive Grants (added 28-Jun-2017)
Letter to County and District Superintendents and Charter School Administrators regarding California Career Technical Education Incentive Grants.