School Quality Snapshot Release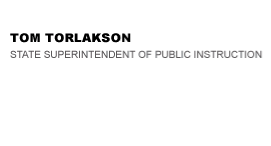 California Department of Education
Official Letter
California Department of Education
Official Letter
October 4, 2012
Dear County and District Superintendents and Charter School Administrators:
THE INTRODUCTION OF THE NEW SCHOOL QUALITY SNAPSHOT AND THE REVISED RELEASE SCHEDULE OF THE ACCOUNTABILITY PROGRESS REPORTING RESULTS
The purpose of this letter is to announce a valuable new report, the School Quality Snapshot (SQS), which has been designed for parents, district and school leadership, and community members to easily view multiple years of school data. This letter also serves to provide you with a revised release schedule for the 2011–12 Accountability Progress Reporting (APR) system.

School Quality Snapshot Release
As described in my report A Blueprint for Great Schools, one of my goals was to develop an accountability system that includes broader measures of student learning and school success. I believe that the SQS is an excellent step toward this goal. I am pleased to announce that my team has developed a new school report that will provide parents, teachers, administrators, board members, parent and teacher organizations, site council members, and other educational stakeholders with a snapshot of school data in a format that is easy to read and understand.
With the reduction in school funding over the last few years, many local educational agencies (LEAs) and schools have been forced to make difficult decisions on how to allocate their resources, while the need to use data in decision making has increased. I hope that this report will be a useful tool for school leaders to use data when making important educational decisions for our students. The SQS graphically displays comparative school, LEA, and state data for various accountability, demographics, and school climate indicators, making the report an exciting new tool for all stakeholders.
The SQS will be available for LEAs to preview on October 8, 2012, on the password-protected APR preview page. To introduce and familiarize LEAs with the SQS and what data are included on the report, a Webinar is scheduled for 9:30 a.m. on October 8, 2012. Information on how to access the Webinar is provided in Attachment 2. If you have any questions regarding the SQS or the Webinar, please contact Meredith Babcock-Roberson, Education Programs Consultant, Evaluation, Research, and Analysis Unit (ERAU), by phone at 916-319-0423 or by e-mail at mbabcock@cde.ca.gov.

Accountability Progress Reporting Update
Attached to this letter is an updated schedule for the APR release. If you have any questions regarding this schedule, Academic Performance Index, or Adequate Yearly Progress (AYP), please contact the Academic Accountability Unit by phone at 916-319-0863 or by e-mail at aau@cde.ca.gov. If you have any questions regarding Program Improvement status or AYP appeals, please contact the ERAU by phone at 916-322-3245 or by e-mail at evaluation@cde.ca.gov.
As my team continues to implement A Blueprint for Great Schools and revises the state's accountability system, I plan to seek input and advice from those of you working in the field. Thank you for all of your hard work on behalf of the students of California.
Sincerely,
Tom Torlakson
TT:ds
Attachments
2012-09972
cc: Accountability Coordinators
Assessment Coordinators
CALPADS Coordinators
Last Reviewed: Thursday, March 10, 2016
Recently Posted in Editorials & Letters