E-Rate Program Modernization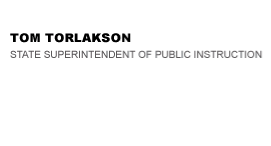 California Department of Education
Official Letter
California Department of Education
Official Letter
August 16, 2013
Dear District and County Superintendents and Charter School Administrators:
VALUABLE OPPORTUNITY TO PROVIDE INPUT ABOUT E-RATE PROGRAM MODERNIZATION
The Blueprint for Great Schools and the report of my Education Technology Task Force have highlighted the need to ensure each California student has access to twenty-first century technology. My goal is to ensure that "no child is left offline."
I am writing today to inform you of an opportunity to provide direct feedback about the modernization of the federal E-rate program. As you may know, E-rate assists school districts and libraries with lowering the cost of providing broadband access.
However, I believe we should modernize the E-rate program so it can do even more to support the robust technology infrastructure required for twenty-first century teaching and learning. I have agreed to co-chair a Digital Learning Task Force of the Council of Chief State Schools Officers to examine this topic. I have also had conversations with U.S. Senator Jay Rockefeller, the original author of E-rate.
The Federal Communications Commission (FCC) is presently examining all aspects of the E-rate program. As part of that process, the FCC is asking you, the applicants to the program, to make comments on what should or should not change.
I strongly encourage you to participate in this process.
The comment period is open now and closes September 16, 2013. The attached documents provide detailed information regarding the FCC Notice of Proposed Rulemaking and different approaches to submitting your comments.
The FCC's goals as it examines potential E-rate modernization include:
Ensuring schools and libraries have affordable access to twenty-first century broadband supporting digital learning.


Maximizing the cost-effectiveness of E-rate funds.


Streamlining the administration of the E-rate program.
I encourage you to provide comments to help shape the future of this important program. You can send comments in the form of a letter; more details are included in the attachments.
You may direct questions about E-rate or the Notice of Proposed Rulemaking process to Erika Webb-Hughes, Federal Policy Liaison, by phone at 916-319-0650 or by e-mail at ehughes@cde.ca.gov. [Note: the preceding contact information is no longer valid. The current federal policy liaison in John Hooper, who can be reached by phone at 916-319-0650 or by e-mail at jhooper@cde.ca.gov.]
Sincerely,
Tom Torlakson
State Superintendent of Public Instruction
TT:ccc
Attachment 1 [http://www.cde.ca.gov/nr/el/le/yr13ltr0816batt.asp]
Attachment 2 [http://www.fcc.gov/document/fact-sheet-update-e-rate-broadband-schools-and-libraries]


Attachment 3 [http://csmcentral.com/eratefiles/NPRM%20Comments%20Submittal%20Instructions.pdf]

(PDF)
2013-07098
Last Reviewed: Monday, May 16, 2016
Recently Posted in Editorials & Letters