"Hour of Code" event letter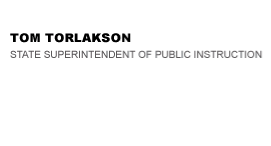 California Department of Education
Official Letter
California Department of Education
Official Letter
November 12, 2013
Dear County and District Superintendents, Charter School Administrators, and Principals:
STUDENTS CAN PARTICIPATE IN "HOUR OF CODE" EVENT DURING
COMPUTER SCIENCE EDUCATION WEEK (DECEMBER 9–15, 2013)
As part of Computer Science Education Week (December 9–15), students may participate in the Hour of Code, a self-guided activity allowing them to try out the basics of computer science.
Code.org has launched the Hour of Code to encourage interest in the computer science field and to show all students that anyone can learn the basics of coding.
The Computer Science Education Week Web site at http://www.csedweek.org offers a variety of hour-long tutorials available for all students, starting with kindergarten. Students can learn basic programming concepts on a computer, tablet, or smartphone. Students also can participate in "unplugged" lessons requiring no device to complete.
I noted the importance of computer science education when I participated in Code.org's kickoff for the Hour of Code in San Francisco on October 14. The Hour of Code's activities are also consistent with the findings of my Education Technology Task Force and my focus on helping our students learn twenty-first century skills, including critical thinking, communication, creativity, and collaboration.
Teachers can sign up to participate in the Hour of Code, or learn more information about the event, by visiting the Computer Science Education Week Web site at http://www.csedweek.org. A participation kit for schools is available at http://www.csedweek.org/school.
If you have any questions about this topic, please contact Craig Cheslog, Principal Advisor to the State Superintendent of Public Instruction, by e-mail at ccheslog@cde.ca.gov or by phone at 916-319-0554 [Note: Prior contact no longer available. For further information, please contact the CDE Executive Office by phone at 916-319-0800].
Sincerely,
Tom Torlakson
State Superintendent of Public Instruction
TT:ccc
Last Reviewed: Friday, August 21, 2015
Recently Posted in Editorials & Letters