RFA for Private School Professional Development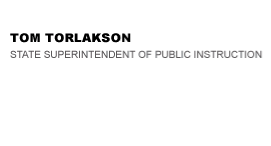 California Department of Education
Official Letter
California Department of Education
Official Letter
February 12, 2014
Dear County and District Superintendents:
2013-14 REQUEST FOR APPLICATIONS FOR STATEWIDE NONPROFIT PRIVATE SCHOOL PROFESSIONAL DEVELOPMENT
The California Department of Education (CDE) Professional Learning Support Division is pleased to announce that the Request for Applications (RFA) is currently available for the Statewide Nonprofit Private School Professional Development contract. Through this RFA, the CDE is seeking applications from eligible applicants to provide professional development services on a statewide basis for California's eligible nonprofit, private school instructional staff and administrators. Eligible applicants will submit an application to the CDE, and one applicant will be selected to contract with the CDE. The successful contractor will oversee the planning and provision of the professional development services described in the online RFA available on the CDE Private School Participation in ESEA Act of 2001 Web page at http://www.cde.ca.gov/sp/ps/cd/.
Background
The Elementary and Secondary Education Act of 2001 (ESEA) Title IX, Part E Uniform Provisions provides a framework for the equitable participation of nonprofit, private school students, teachers, and other educational personnel in federally funded programs and services. The ESEA Uniform Provisions mandate an annual private school consultation process between public and nonprofit private school officials to collaboratively plan for the provision of federally funded, equitable programs and services to benefit the students and educators in nonprofit private elementary and secondary schools. The private school consultation and equitable services mandate applies both at the local district level between districts and local private school officials, and at the State level between the State Education Agency (SEA) and privates school officials.
The CDE intends to select a contractor to support the fulfillment of California's State-level equitable services by facilitating the delivery of high quality professional development services for nonprofit, private school educators and administrators statewide. Allowable professional development services are defined under the ESEA Title II, Part A.
The CDE conducts State-level private school consultation on an ongoing, collaborative basis with the California Private School Advisory Committee (CPSAC), consistent with the ESEA Title IX mandate. The CPSAC was created in 1986 and represents California's private schools (currently numbering approximately 3,300). The CPSAC consists of nonprofit private school leaders from statewide private school associations and organizations that represent the broadly inclusive needs and interests of California's private school students. These students comprise nearly eight percent of the state's kindergarten through grade twelve student population. Membership of the CPSAC is comprised of representatives from a variety of organizations that together represent nearly 90 percent of California's nonprofit private schools with six or more students.
A key role of the CPSAC is to collaborate with the CDE to conduct the assessment of eligible private school staff development needs statewide. Based on these needs, the CPSAC collaborates with the CDE and recommends professional development for eligible private school educators and administrators that will, ultimately, benefit nonprofit private school students. The CPSAC plays an important role in disseminating information and facilitating the delivery of the mandated professional development services among California's nonprofit private schools.
Request for Applications for Statewide Nonprofit Private School Professional Development
Eligible applicants include public school districts and county offices of education that are not in Program Improvement.
A copy of this RFA can be viewed on the CDE Private School Participation in ESEA Act of 2001 Web page at http://www.cde.ca.gov/sp/ps/cd/. The CDE will only accept applications from applicants from which it has received an Intent to Submit an Application form by 4 p.m. on February 24, 2014. The CDE Professional Learning Support Division must receive all application components by 4 p.m. on March 28, 2014. Incomplete, late, or incorrectly formatted applications will not be scored or considered for approval. Applicants are urged to use express, certified, or registered mail. Transmission by electronic mail (e-mail) or facsimile (fax) will not be accepted.
This RFA will result in a future contract with the CDE. Therefore, the Applicant awarded the contract must agree to the State's General Terms and Conditions (GTC 610) and the Contractor Certification Clauses (CCC-307) set forth at
http://www.dgs.ca.gov/ols/Resources/StandardContractLanguage.aspx. As the CDE reviews the responses received as a result of this RFA, it may be necessary for the CDE to seek clarification or require immaterial changes to the Scope of Work and/or Budget provided by the Applicant for the purposes of complying with the State contracting requirements.
If you have any questions regarding this RFA, please contact Jane Ross, Education Programs Consultant, Title II Leadership Office, by phone at 916-319-0339 or by e-mail at jaross@cde.ca.gov.
Sincerely,
Tom Torlakson
TT:jr
2014-00306
Last Reviewed: Friday, January 8, 2016
Recently Posted in Editorials & Letters