Notice of Improvement Status, Title III Year 1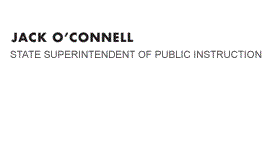 California Department of Education
Official Letter
California Department of Education
Official Letter
Dear Select Superintendents and Charter School Administrators:
Notice of Improvement Status under Title III of No Child Left Behind
This letter serves as official notification of the local educational agency's (LEA's) requirements under Title III. According to our records, your LEA was a Title III consortium lead for the 2008-09 school year. LEAs that are members of a consortium no longer receive a separate Title III Accountability Report. Instead, the results for each consortium are aggregated up to the consortium level as required by the Office of English Language Acquisition of the U.S. Department of Education (ED). Consortia are held accountable as a group for meeting the Annual Measureable Achievement Objectives (AMAO) and for the consequences of not meeting the AMAO. Based upon the 2008-09 Title III Accountability Report, your consortium has not met AMAO for one year and has been identified as:
Title III Requirements
Your consortium is subject to the following Title III Year 1 requirement:
Within 30 days of the public release of the Title III Accountability Reports (October 15, 2009), notify parents of English learners that the LEA did not meet Title III AMAO. Sample letters, in both English and Spanish, are available on the California Department of Education Title III Accountability Requirements Web page at http://www.cde.ca.gov/sp/el/t3/t3amaotargets.asp.

According to guidance from the ED, the consortium lead is responsible for ensuring the parents of English learners in both the lead and member LEAs are notified if AMAO are not met. The lead can delegate responsibility to each of the consortium members.
For more information on the Title III Year 1 requirement, contact Lilia Sánchez, Education Program Consultant, Language Policy and Leadership Office, at 916-319-0265 or by e-mail at lsanchez@cde.ca.gov [note, the preceding contact has been replaced by Deb Reeves-Gutierrez, Education Programs Consultant, Language Policy and Leadership Office, phone 916-319-0265 or e-mail dreevesgutierrez@cde.ca.gov].
Sincerely,
GAVIN PAYNE
Chief Deputy Superintendent of Public Instruction

GP:ls
Last Reviewed: Thursday, June 30, 2016
Recently Posted in English Learners