Official Memorandum Issued April 18, 2000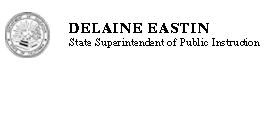 California Department of Education
Official Letter
California Department of Education
Official Letter
Date:

April 18, 2000

To:

Special Education Local Plan Area (SELPA) and State-operated Programs (SOP) Directors/Administrators
Special Education Administrator at County Offices (SEACO)

From:

Dr. Alice D. Parker
Assistant Superintendent
Director, Special Education

Subject:

Notice of Sanctions for Noncompliance
Federal and state law require the California Department of Education (CDE), as the state education agency, to enforce local compliance with the laws guaranteeing children with disabilities a free appropriate public education. (20 United States Code [USC] section 1412(a)(11); 34 Code of Federal Regulation [CFR] section 300.600; Education Code [EC] section 56000.) CDE currently monitors local education agency (LEA) compliance through individual compliance complaint investigations, the coordinated compliance review, and the quality assurance process. This is to advise you that prolonged and substantial noncompliance, determined through any of these methods of monitoring or investigation, will not be tolerated.
CDE intends to implement appropriate sanctions as a means to ensure compliance with required corrective actions, including:
Withholding state and/or federal special education funds (5CFR section 4670(a)(1); 20 USC section 1413(d)(1).)
Disapproving a local plan (EC section 56205)
Seeking court enforcement of corrective actions (Code of Civil Procedures section 1085; 5 California Code of Regulations section 4670(a)(3).)
You will be notified in advance of CDE's intent to impose any or all of these sanctions on your LEA if you have not fulfilled your corrective actions by the due date. Sanctions will be lifted upon CDE's receipt of evidence that all corrective actions have been completed and that all noncompliance has been remedied.
For questions or clarification, please contact me at aparker@cde.ca.gov or (916) 445-4613. Updated 01/10/06 - Mary Hudler at mhudler@cde.ca.gov or Updated 06/17/2010 - the Special Education Director's Office at 916-445-4602.
Last Reviewed: Tuesday, September 16, 2014
Recently Posted in Special Education
California's Annual State Application for 2016 (added 03-Feb-2016)
Annual State Application under Part B of the Individuals with Disabilities Education Act (IDEA) is to be submitted by May 12, 2016, for federal fiscal year (FFY) 2016.