School Improvement Grant - Revised Due Date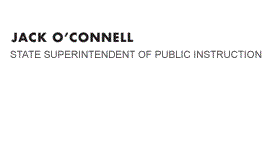 California Department of Education
Official Letter
California Department of Education
Official Letter
Dear Select County and District Superintendents and Charter School Administrators:
REVISED DEADLINE—SCHOOL IMPROVEMENT GRANT
UNDER THE ELEMENTARY AND SECONDARY EDUCATION ACT,
SECTION 1003(g), COHORT 2010–11
California's School Improvement Grant (SIG) application has been approved by the U.S. Department of Education (ED. As a result, a revised deadline of July 2, 2010, has been identified for local educational agencies (LEAs) to submit their application to the California Department of Education (CDE). Some changes have been made to the Request for Applications (RFA) that may require LEAs to modify their applications. Also, several clarifications were made to the application screening process that do not affect LEA application requirements, but may be of interest to respondents. If you have submitted an application prior to the revised due date, please review the changes identified below and resubmit your application in its entirety, if necessary.
In addition, ED has indicated they will be releasing new guidance, which will include clarification on the use of SIG funds, specifically regarding facilities and class size reduction. The new guidance will be available on the ED School Improvement Fund Web page at http://www2.ed.gov/programs/sif/faq.html. As we receive additional information, we will provide updates to LEAs.
The revised RFA is posted on the CDE School Improvement Grant Web page located at http://www.cde.ca.gov/sp/sw/t1/sig09.asp. The CDE has scheduled a Webinar for June 25, 2010, to further explain and clarify these changes. Appropriate LEA and school personnel are encouraged to participate. Webinar information is included in the Attachment.

The following is a summary of changes that have been made to the RFA as a result of ED's feedback:
The reference to the possibility that an LEA's entire sub-grant may not be renewed in cases where one or more schools in the LEA are not meeting their improvement goals has been replaced throughout the RFA with the notation that an LEA's sub-grant will be considered for a reduction equivalent to the annual award for the non-achieving school(s) with the intent that the school(s) no longer receive(s) funding. The State Board of Education (SBE) retains final decision making regarding continuation of funding levels.


In the timeline on page 4, the reference to submission of revised LEA Plan addendum and Single Plan for Student Achievement to the CDE by October 1, 2010, has been modified to reflect that this will be for information and progress update purposes. In addition,a statement has been added to indicate that, while the LEA Plan addendum can be completed concurrent with initial implementation of the intervention(s), the interventions must be implemented within the required timelines described in the RFA.


A statement on page 8 regarding charter schools expected to select the School Closure model has been modified to reflect that persistently lowest-achieving charter schools that do not select the Closure intervention model must clarify how the intervention selected will create a significantly different instructional model and school culture.


The statement on page 8 regarding funding levels reflecting the LEA's state-approved projected cost of implementing the selected intervention strategy for each school has been adjusted to avoid the impression that there is a formula calculation for grant awards. However, the CDE does intend to review cost projections for accuracy and reasonableness with respect to local implementation costs.


An additional statement on page 8 provides clarifying language concerning state educational agency (SEA) funding decisions for cases in which an LEA application does not demonstrate it has sufficient capacity to serve all schools for which it applied.


On page 19 additional language is added further clarifying that use of funds is subject to "all applicable legal requirements including regulations and statutes."
The Payments to Sub-grantees section on page 19 has been revised to indicate that the first 25 percent payment, and all subsequent payments, may include expenses incurred to date and that no payment will be made in excess of the grant award.
A scoring system for submitted LEA applications has been added and can be found on page 21 of the RFA in the Selection Process section. A reference to the fact that an application that receives a rating of "inadequate" on any element will not be recommended for funding has been added.
The word "points" has been replaced with "percent" in the scoring breakdown on page 21.
The Award Notification date of August 1, 2010, has been replaced on page 21 with a statement that the CDE will post its notification of proposed sub-grant awards for the SIG program on the CDE School Improvement Grant Web page at http://www.cde.ca.gov/sp/sw/t1/sig09.asp within 30 days of the SEA's action to award SIG sub-grants to LEAs.
On page 27, added instruction for completing Implementation Charts includes adding a column that ties actions and activities to required intervention elements. It also makes reference to new Appendix B: School Improvement Grant Model Component Acronyms that correlate with the stated Services and Activities listed on SIG Form 10.
Appendix B: School Improvement Grant Model Component Acronyms, page 66, has been added to guide respondents in completing the new Implementation Chart element described above.
"Total Grant Amount Requested" has been added to Form 1 - Application Cover Sheet, page 32.
In Form 2 - Collaborative Signatures, page 33, "Signature" has been added to the title of the name column and the column has been split to accommodate the printed name and signature; and "School" has been added to the Organization column to allow collaborative partners to indicate the school with which they are affiliated.
New forms for School Budget Plan (SIG Form 4b) and School Budget Narrative (SIG Form 5b) have been added in the forms section starting on page 36 of the RFA. As a result of this change, the LEA Budget Plan (SIG Form 4a) should only reflect LEA-level expenditures and the School Budget Plan(s) should only reflect school-level expenditures.
School Implementation Charts (SIG Forms 10, page 49, and 11, page 50), have been modified to enable LEAs to show projected costs at both the school and LEA level. The total of the column for LEA cost on the School Implementation Chart(s) should match the amount on the LEA Budget Plan (SIG Form 4a). Correspondingly, the total of the column for school cost on a school's Implementation Chart should match the amount shown on that school's Budget Plan (SIG Form 4b). These projected cost columns should only indicate SIG funds to be spent. If other funding sources are used, they should be included in the Resources column.
On page 49, Form 10, a "Required Component Acronym" column has been added along with instructions for completing this new required element on the Implementation Chart. Refer to Appendix B as previously mentioned.
On Appendix A: SIG Rubric, page 51, narrative elements have been clarified as to which may be "not applicable" based on local conditions or implementation plans.
An expanded rubric that includes five components for scoring school implementation charts and five components for scoring LEA and school budgets are located on pages 63 through 65.

If you have any questions regarding this subject, please contact Julie Baltazar, Education Administrator, Regional Coordination and Support Office, by phone at 916-319-0833 or by e-mail at jbaltazar@cde.ca.gov.
Sincerely,
/s/
Deborah V.H. Sigman, Deputy Superintendent
Curriculum, Learning and Accountability Branch
DS:dr
Attachment
Last Reviewed: Friday, November 21, 2014