CAHSEE ABX4 Letter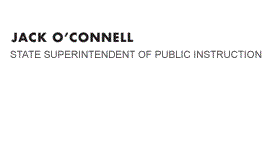 California Department of Education
Official Letter
California Department of Education
Official Letter
August 25, 2009
Dear County and District Superintendents and Charter School Administrators:
CALIFORNIA HIGH SCHOOL EXIT EXAMINATION
CHANGE TO CALIFORNIA EDUCATION CODE FOR STUDENTS WITH DISABILITIES
On July 28, 2009, Governor Arnold Schwarzenegger signed Assembly Bill 2 of the 2009–10 Fourth Extraordinary Session (ABX4 2) (Chapter 2, Statutes of 2009). ABX4 2 enacted California Education Code Section 60852.3, which, beginning in 2009–10, would exempt an eligible student from meeting the California High School Exit Examination (CAHSEE) requirement as a condition for graduation.
An eligible student as defined in the law is a student with a disability who has an individualized education program (IEP) or Section 504 Plan that indicates that the student has satisfied or will satisfy all other state and local requirements to receive a high school diploma on or after July 1, 2009. Students with disabilities are required to take the CAHSEE in grade ten for purposes of fulfilling the requirements of the federal No Child Left Behind Act of 2001.
This exemption shall last until the State Board of Education either implements an alternative means for students with disabilities to demonstrate achievement in the standards measured by the CAHSEE or determines that an alternative means assessment to the CAHSEE is not feasible.
We are working diligently to clarify the details of this change in legislation, as we are aware that it may significantly affect students with disabilities and the districts that serve them. We will continue to keep you informed as the details of this legislation become clearer.
If you have any questions regarding this subject, please contact Diane Hernandez, Administrator, CAHSEE Office, at 916-445-9449 or by e-mail at dhernand@cde.ca.gov.
Sincerely,
JACK O'CONNELL
JO:gj
cc: California High School Exit Examination Coordinators
Last Reviewed: Friday, June 5, 2015
Recently Posted in Testing