Appointment of Senior Assessment Fellows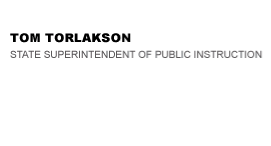 California Department of Education
Official Letter
California Department of Education
Official Letter
January 22, 2014
Dear District and County Superintendents and Charter School Administrators:
APPOINTMENT OF SENIOR ASSESSMENT FELLOWS
I am pleased to announce the appointment of four Senior Assessment Fellows who will help to enhance the collaboration, relationships, and communication between the California Department of Education (CDE), and local educational agencies (LEAs) to ensure the successful implementation of the California Assessment of Student Performance and Progress (CAASPP), including the spring 2014 Smarter Balanced Field Test.
The Senior Assessment Fellows, whose positions with the CDE are made possible by the Californians Dedicated to Education Foundation and supported by the CDE, consist of four members who will have responsibility for different regions of the state. The Senior Assessment Fellows are Paula Carroll, Dr. Gina Koency, Kathy Caric, and Mary Tribbey. These individuals have a wide range of backgrounds, including experience as K–12 and university classroom teachers; site-, district-, and county-level administrators; and assessment program coordinators. Their experience also includes working with the CDE on numerous assessment-related projects.
The Senior Assessment Fellows will focus on several priorities related to the implementation of the Smarter Balanced assessments beginning with the Field Test, and will include collaborating with the CDE and its contractors on identifying issues and promptly developing strategies, resources, and solutions; developing and delivering a variety of presentations statewide; developing and providing a toolkit for LEAs to identify assessment resources; expanding outreach efforts to include a full range of stakeholders; sharing best practices for implementation of the Smarter Balanced assessments; and gathering and analyzing data regarding the effectiveness of the communications and outreach efforts.
Please join me in welcoming the Senior Assessment Fellows. If you have any questions regarding these outstanding additions to our assessment team, please contact the Assessment Support and Outreach Office at 916-445-8517.
Sincerely,
Tom Torlakson
TT: mm
Last Reviewed: Monday, April 27, 2015
Recently Posted in Testing