Joint Letter to All Licensed Child Care Centers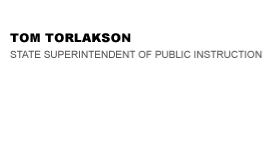 California Department of Education
Official Letter
California Department of Education
Official Letter
CDSS
California Department of Social Services
California Department of Education
June 29, 2012
To: ALL LICENSED CHILD CARE CENTERS
The California Department of Education, Nutrition Services Division, and the California Department of Social Services (CDSS) Child Care Licensing Program, have partnered together in an effort to provide you with resources to help you in the implementation of Assembly Bill 2084 (Brownley), Chapter 593, Statutes of 2010—the healthy beverage bill.
This new law requires all licensed child care facilities to provide only healthy beverages, including water, to children in their care. The intent of this law closely aligns with State Superintendent of Public Instruction Tom Torlakson's Team California for Healthy Kids campaign to increase access to water, a major campaign goal, and also with the recommendations of the American Academy of Pediatrics for beverages that are served in child care facilities.
Implementing New State Beverage Requirements:
Effective January 1, 2012, all licensed child care centers (CCCs) and family child care homes (FCCHs) are required to comply with the following beverage provisions:
Serve only 1 percent or non-fat milk to children two years of age or older.
Limit juice to not more than one serving per day of 100 percent juice.
Do not serve beverages with added sweeteners, either natural or artificial, but does not include infant formula or complete balanced nutritional products designed for children.
Make clean and safe drinking water readily available to children throughout the day.
The law provides the following exceptions:
If a child has a medical necessity documented by a physician that includes the need for "medical food" as defined by Section 109971 of the California Health and Safety Code, a licensed child care facility shall be exempt from complying with the beverage requirements to the extent necessary to meet the medical needs of that child.
This section shall not apply to beverages at a licensed child day care facility that are provided by a parent or legal guardian for his or her child.
The CDSS will determine compliance during a regularly scheduled, authorized inspection.
To review the specific language of AB 2084, please visit the Official California Legislative Information Web page at http://leginfo.ca.gov/pub/09-10/bill/asm/ab_2051-2100/ab_2084_bill_20100930_chaptered.pdf.
Resources to Help Implement New State Beverage Guidelines
Child and Adult Day Care Food Program (CACFP): Consider participating in the CACFP, a federal nutrition program that provides reimbursement for healthy meals and snacks served to children and adults. Research shows that children participating in the CACFP are served more nutritious meals than those not on the program. Now is a great time to participate, as there is less paperwork and you can apply and submit your claims online. If you are not already participating, a CACFP brochure is included in this packet.
Rethink Your Drink Campaign: Read and share the Potter the Otter booklet in your program and display the poster in a prominent location. Download additional copies of this booklet on the First Five Santa Clara County's Potter Loves Water Resources Web site at http://www.potterloveswater.com. The posters and additional materials have been made possible through a partnership with the Network for a Healthy California. For information about how to access more materials, contact Jackie Richardson, Network for a Healthy California, by e-mail at Jackie.Richardson@cdph.ca.gov.
California Food Policy Advocates: Visit the Healthy Beverages in Child Care Web site at http://www.healthybeveragesinchildcare.org to learn why beverages in child care matter and find links to materials and best practices for improving the nutritional quality of food and beverages served to children.
Team California for Healthy Kids resources: Get more ideas to improve the health of the children in your care. You can find fact sheets and more at the CDE Resources and Upcoming Events Web page at http://www.cde.ca.gov/eo/in/tchk.asp.
You are in a special and unique position to teach children healthy, life-long eating and drinking habits that can help prevent childhood obesity. We are confident that your efforts in providing only healthy beverages will help California's young children grow healthy and ready to learn.
Should you have questions regarding the new state beverage requirements, please contact your local child care regional office. You can find a list of child care program offices on the Contact the Community Care Licensing Division Web page at http://www.ccld.ca.gov/res/pdf/CClistingMaster.pdf
Sincerely,
Paula d'Albenas
Acting Child Care Program Administrator
Community Care Licensing Division
Department of Social Services
Sandip Kaur
Acting Director
Nutrition Services Division
Department of Education
Enclosures
Last Reviewed: Monday, April 10, 2017
Recently Posted in Commissions & Committees