Notice of the CSRLF 2011-12 First Apportionment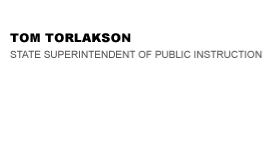 California Department of Education
Official Letter
California Department of Education
Official Letter
Dear Select County Superintendents of Schools, Auditors, and Treasurers:
NOTICE OF THE FIRST APPORTIONMENT FROM
THE CHARTER SCHOOL REVOLVING LOAN FUND
FISCAL YEAR 2011–12
This apportionment, in the amount of $12,100,000, will provide a one-time loan to the charter schools identified on the enclosed payment schedule. Funds are available through the Charter School Revolving Loan Fund to help meet initial operating costs for schools in their first charter term. Qualified expenses include, but are not limited to, the cost of leasing facilities, making necessary improvements to facilities, and purchasing instructional materials.
Once the apportionment is disbursed, the charter schools and chartering authorities, as applicable, will be notified of the actual interest rate along with the approved repayment schedule. Please be aware that the loans must be repaid commencing with the first fiscal year following the fiscal year the charter school receives the loan. The State Controller's Office will automatically deduct the loan payments from the charter school or the authorizing local educational agency's (LEA's) State School Fund apportionments. The amounts loaned to each charter school are listed on the schedule of apportionment (See enclosure 1).
The State Controller's Office will mail the warrant to the select County Treasurers approximately two weeks from the date of this notice. The select County Treasurers are requested to immediately deposit the amount received into the appropriate fund or account established by the select County Superintendents of Schools on behalf of each charter school. Funding for direct-funded charter schools is paid directly to the school; funding for locally-funded charter schools is paid to the authorizing LEA. For standardized account code structure coding, receipt of the apportionment should be recorded in Resource Code 0000, Unrestricted, and Revenue Object Code 8979, All Other Financing Sources. Repayments of the loan should be coded to Expenditure Objects 7438, Debt Service-Interest, and 7439, Other Debt Service-Principal.
If you have any questions regarding this apportionment, please contact the Charter Schools Division, at 916-322-6029 or by e-mail at CSRLF-APPS@cde.ca.gov.
Sincerely,
Deborah V.H. Sigman, Deputy Superintendent of Public Instruction
District, School and Innovation Branch
DS:jkb
Enclosure
cc: Select Chartering Authorities
Select Charter Schools
Last Reviewed: Tuesday, February 16, 2016