Ltr-09: AIEC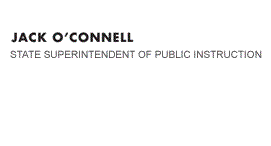 California Department of Education
Official Letter
California Department of Education
Official Letter
October 30, 2009
Dear American Indian Education Centers:
NOTICE OF THE APPORTIONMENT TO THE
AMERICAN INDIAN EDUCATION CENTERS
FISCAL YEAR 2009-10
This apportionment, in the amount of $2,729,254, is made from funds provided in Item 6110-151-0001, American Indian Education Centers, of the Budget Act of 2009 (Chapter 1, Statutes of 2009, Third Extraordinary Session) as amended by Assembly Bill 1 of the Fourth Extraordinary Session (Chapter 1, Statutes of 2009).
A warrant will be mailed to the Centers approximately four weeks from the date of this Notice. To view the schedule of apportionment, please visit the California Department of Education Categorical Programs Web page at http://www.cde.ca.gov/fg/aa/ca/.
California Education Code (EC) Section 42605 authorizes complete flexibility in the use of funds appropriated in the state budget for fiscal years 2008-09 through 2012-13 for numerous budget items, including the funds formerly restricted to the American Indian Education Centers Program. Program and funding requirements as otherwise provided in statute, regulation, and budget act provisional language associated with the funding are not in effect. The Centers may now use the funds formerly restricted to this program for any educational purpose. To assure that the funds are spent on an educational purpose, expenditures may be subject to audit.
Pursuant to EC Section 42605, 2009-10 entitlements were calculated based on the relative share that each Center received of 2008-09 program funds from budget item 6110-151-0001, then reduced to reflect the 19.8 percent funding reduction in Control Section 12.42 of the Budget Act. This apportionment pays each Center 75 percent of its 2009-10 entitlement. The remaining amount will be paid in April 2010.
If you wish to continue to use these funds to provide academic and cultural support services to American Indian students and have questions regarding the provision of those services, please contact Judy Delgado, Program Consultant, English Learner and Curriculum Support Division at 916-319-0506 or by e-mail at judelgado@cde.ca.gov. If you have questions regarding this apportionment, please contact Janice Huarte, Fiscal Analyst, Categorical Allocations and Management Assistance Office at 916- 322-9128 or by e-mail at jhuarte@cde.ca.gov [Note, the preceding contact information is no longer valid and has been replaced by Tonya Holmes, Fiscal Analyst, Categorical Allocations & Management Assistance Unit, by phone at 916-323-6028 or by e-mail at tholmes@cde.ca.gov.]
Sincerely,
Susan Lange, Deputy Superintendent
Finance, Technology, and Administration Branch
Last Reviewed: Monday, April 18, 2016