Ltr2-08: ARRA, Title I, Part A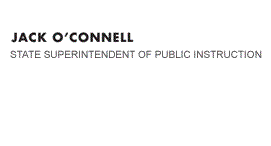 California Department of Education
Official Letter
California Department of Education
Official Letter
Dear County Superintendents of Schools and Treasurers:
NOTICE OF THE SECOND APPORTIONMENT FOR THE AMERICAN RECOVERY AND
REINVESTMENT ACT OF 2009 (ARRA), FOR TITLE I, PART A, OF THE
ELEMENTARY AND SECONDARY EDUCATION ACT OF 1965
FISCAL YEAR 2008-09
This apportionment, in the amount of $1,262,004, is made from federal funds provided to the State under the American Recovery and Reinvestment Act of 2009 (ARRA) (Public Law (PL) 111-5) designated for the Title I, Part A program under the Elementary and Secondary Education Act of 1965 (ESEA), as amended by the No Child Left Behind Act of 2001 (NCLB) (PL 107-110). Fifty percent ($562.5 million) of the total ARRA Title I, Part A funding ($1.124 billion) was awarded to the State in April 2009, and was appropriated for fiscal year (FY) 2008-09. This apportionment reflects the full entitlement to local educational agencies (LEAs) from that federal allocation (equal to $535 million after mandated set-asides and reserves for LEAs not included in this apportionment) that were not included in the apportionment paid in May 2009. In addition, it includes funds due to new or significantly expanding charter schools. Other eligible LEAs will be funded in future apportionments.
The other half of the ARRA Title I, Part A allocation is appropriated for FY 2009-10. Timing of the allocation of these funds, and the regular 2009-10 Title I, Part A funds, is being developed, and will be reflected on the California Department of Education's (CDE's) categorical cash flow schedule.
Funding for this program is appropriated under Item 6110-134-0890, Schedule (10), of the Budget Act of 2008 (includes Chapters 268 and 269, Statutes of 2008), as amended by a budget revision pursuant to Section 28.00 of that act.
Title I, Part A ARRA funds are in addition to the FY 2009-10 funding for the Title I, Part A program, appropriated in PL 111-8, the United States Department of Education Appropriations Act, 2009. Funds made available under ARRA and PL 111-8 constitute the total allocation for Title I, Part A, for FY 2009-10, and available for obligation by LEAs, subject to the carryover limitation in Section 1127 of the ESEA, until September 30, 2011.
Eligibility
An LEA is eligible for ARRA funding if it "has at least 10 formula children and in which those formula children comprise at least 5 percent of the LEA's school-aged population." For additional details, see A-5 and A-6 in the April 2009 guidance issued by the United States Department of Education (ED) at http://www.ed.gov/policy/gen/leg/recovery/guidance/title-i.pdf .
For the purpose of this apportionment, eligibility for funding was determined based on the election of LEAs to receive Title I, Part A funds in FY 2009-10 as indicated in the Consolidated Application (ConApp) for 2009-10 due to the CDE in June 2009; those that did not elect to participate in that fiscal year are not included in this apportionment.
Use of Funds
These funds must be "used consistent with the Title I, Part A statutory and regulatory requirements, including the requirements to provide equitable services to eligible private school students. Uses should be aligned with the core goals of the ARRA to save and create jobs and to advance reforms consistent with the requirements of Title I." Examples of possible uses of Title I, Part A ARRA funds consistent with ARRA principles are listed in the ED Web site at http://www.ed.gov/policy/gen/leg/recovery/factsheet/title-i.html. Additional federal guidance on allowable uses of ARRA Title I, Part A funds is available at http://www.ed.gov/policy/gen/leg/recovery/guidance/titlei-reform.pdf.
Federal guidance notes that ARRA funds are one time and will likely not be available at the same level, if at all, beyond September 30, 2011. Use of funds on short-term investments with potential long-term benefits is encouraged.
Reporting
Pursuant to Section 1512 of ARRA, LEAs will submit quarterly reports that cover cumulative activities from the beginning of the grant period. It is anticipated that the second report will cover the quarter ending December 30, 2009. At minimum, grantees should anticipate reporting: (1) the total amounts of ARRA funds received, (2)amounts of ARRA grant funds expended on or obligated to projects or activities; (3) the name, description, and evaluation of the project or activity's completion status; (4) an estimate of the number of jobs that were saved or created with the ARRA funds; and (5) for infrastructure investments, the purpose, total cost, and rationale for funding the investment and the name and contact information of the person to contact regarding the project. Reporting guidelines from the Office of Management and Budget and the ED are available at http://www.cde.ca.gov/ar/rr/ (Section 1512(c) and (f) of the ARRA).
In addition, each LEA receiving Title I, Part A ARRA funds must report a school-by-school listing of per-pupil educational expenditures from state and local sources for the 2008-09 school year. Further information will be provided.
Grant Award, Other Information
The ED award number for this apportionment is S389A090005. The Catalog of Federal Domestic Assistance subprogram number is 84.389A, Title I Grants to LEAs, Recovery Act.
This grant award is subject to the provisions of Title I and Title IX of the ESEA, as applicable, and the General Education Provisions Act (GEPA). This grant is also subject to the Title I regulations in Title 34 of the Code of Federal Regulations (CFR), Part 200, and the Education Department General Administrative Regulations (EDGAR) in 34 CFR parts 76 (except for 76.650‑76.662, Participation of Students Enrolled in Private Schools), 77, 80, 81, 82, and 85. Regulations regarding Participation of Eligible Children in Private Schools are found in 34 CFR sections 200.62 - 200.67.
Under the federal Tydings Amendment, Section 421(b) of GEPA, any funds that are not obligated at the end of the federal funding period, July 1, 2009, through September 30, 2010, shall remain available for obligation for an additional period of 12 months, to September 30, 2011, subject to the limitation in Section 1127(a) of the ESEA; that subsection allows an LEA to carry over no more than 15 percent of its Title I, Part A allocations (including ARRA Title I), not including funds received through any reallocations under ESEA Section 1126(c), for one additional fiscal year, unless it receives a waiver from the CDE or its total allocation is less than $50,000. Additional federal guidance regarding special waiver procedures for ARRA will be forthcoming.
Title 34 of the CFR, Section 80.21(i), requires that any interest earned by LEAs on federal dollars be returned to the ED. LEAs may keep interest amounts up to $100 per year for administrative expenses. LEAs should forward interest payments for remittance to the ED to:
Cashier's Office
Fiscal and Administrative Services Division
California Department of Education
1430 N Street, Suite 2213
Sacramento, CA 95814-5901
To ensure proper posting of payments, please include the program's PCA number (PCA 15005) and identify the payment as "Federal Interest Returned."
Warrants will be mailed to select county treasurers approximately two weeks from the date of this Notice. For standardized account code structure (SACS) coding, use Resource Code 3011, NCLB: ARRA Title I, Part A, Basic Grants Low Income and Neglected, and Revenue Object Code 8290, All Other Federal Revenue. Select county superintendents of schools are requested to immediately inform their LEAs, including direct-funded charter schools, of this apportionment.
Each recipient and subrecipient awarded funds made available under the ARRA must promptly refer to the ED's Office of Inspector General any credible evidence that a principal officer, employee, agent, contractor, subrecipient, subcontractor, or other person has submitted a false claim under the False Claims Act or has committed a criminal or civil violation of laws pertaining to fraud, conflict of interest, bribery, gratuity, or similar misconduct involving those funds. Information about the Office of Inspector General Hotline is available at http://www.ed.gov/about/offices/list/oig/hotline.html.
Questions and Choosing to Not Participate
If you have any questions regarding the Title I program, please contact the Title I Policy and Partnerships Office at 916-319-0853. For questions concerning this apportionment, or to choose to not participate in the ARRA Title I, Part A program, please contact Leslie Sharp, Fiscal Analyst, Categorical Allocations and Audit Resolution Office, at 916-323-4977 or by e-mail at lsharp@cde.ca.gov.
Sincerely,
Susan Lange, Deputy Superintendent
Finance, Technology, and Administration Branch
Last Reviewed: Friday, July 15, 2016