Ltr-08: FSP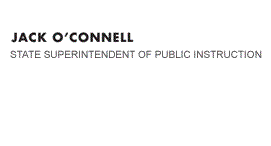 California Department of Education
Official Letter
California Department of Education
Official Letter
January 21, 2009
Dear Select County Superintendents of Schools, Auditors, and Treasurers:
NOTICE OF THE FIRST APPORTIONMENT FOR
FISCAL SOLVENCY PLANS
FISCAL YEAR 2008-09
This apportionment, in the amount of $21,745, is made from funds provided in Section 43(a)(6) of Assembly Bill 1802 (Chapter 79, Statutes of 2006) as amended by Section 9 of Senate Bill 1131 (Chapter 371, Statutes of 2006) for Fiscal Solvency Plan funding. This apportionment is for reimbursement of school district and charter school costs for completing a plan to meet outstanding long-term fiscal obligations for other post employment benefits (OPEB) and to provide funding to county offices of education for their review of the school district plans.
School districts and charter schools that develop a plan to meet their outstanding fiscal obligations related to OPEB may apply for funding of up to $15,000 per plan. In addition, county offices of education are eligible for funding to review the school district plans. The amount paid in this apportionment to each school district and county office represents full funding of each of their entitlements as a result of the applications received to date. Applications for this funding are due no later than June 15, 2009.
Warrants will be mailed to county treasurers approximately four weeks from the date of this Notice. For standardized account code structure coding, please use Resource Code 7386, Fiscal Solvency Plans, and Revenue Object Code 8590, All Other State Revenue.
To view the schedule of apportionment or for more information on OPEB and fiscal solvency plans, please visit our Web site at http://www.cde.ca.gov/fg/aa/ca/fiscalsolvency.asp. If you have any questions regarding this apportionment, please contact Janet Finley, Consultant, School Fiscal Services Division, at 916-323-5091 or by e-mail at jfinley@cde.ca.gov.
Sincerely,
Susan Lange, Deputy Superintendent
Finance, Technology, and Administration Branch
Last Reviewed: Wednesday, February 1, 2017