Ltr2-09: Title III, LEP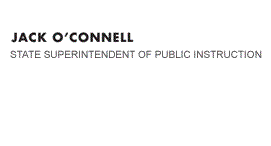 California Department of Education
Official Letter
California Department of Education
Official Letter
Dear County Superintendents of Schools and Treasurers:
NOTICE OF THE SECOND APPORTIONMENT FOR TITLE III,
ENGLISH LANGUAGE ACQUISITION, LANGUAGE ENHANCEMENT, AND
ACADEMIC ACHIEVEMENT, FOR LIMITED ENGLISH PROFICIENT STUDENTS,
OF THE NO CHILD LEFT BEHIND ACT OF 2001
FISCAL YEAR 2009-10
This apportionment, in the amount of $40,510,200, is made from federal funds provided to the State under Title III of the Elementary and Secondary Education Act of 1965 (ESEA), as amended by the No Child Left Behind (NCLB) Act of 2001 (PL 107-110), in support of grants awarded to eligible local educational agencies (LEAs) to provide supplementary programs and services to limited English proficient (LEP) students. The entitlement for each LEA is equal to the number of LEP students reported on the March 2008 R-30 Language Census Report, multiplied by a rate of $100. This apportionment provides payment to eligible LEAs that have met the cash management threshold.
Direct-funded charter schools must apply individually for this program. The amount of funding for a direct-funded charter school is identified separate from the district or county amount. All other charter schools must apply through their authorizing agency; associated funding for these charter schools is included in the district or county amount.
The United States Department of Education (ED) grant award number for this funding is S365A090005A. The Catalog of Federal Domestic Assistance subprogram number is 84.365A (English Language Acquisition Grants). This grant award is subject to the provisions of Title III, Part A, of the ESEA, as applicable, and the General Education Provisions Act. This grant is also subject to the regulations in Part 299 of Title 34 of the Code of Federal Regulations (CFR) and the federal Education Department General Administrative Regulations in 34 CFR parts 76, 77, 80, 81, 82, 85, and 86.
The funding is appropriated in Schedule (2) of Item 6110-125-0890 of the Budget Act of 2009 (Chapter 1, Statutes of 2009, Third Extraordinary Session, as amended by Chapter 1, Statutes of 2009, Fourth Extraordinary Session). The California sub-allocation (pass-through) number is Program Cost Account (PCA) 14346.
Under the federal Tydings Amendment, Section 421(B) of the General Education Provisions Act, 20 U.S.C. 1225(b), any funds that are not obligated at the end of the federal funding period, July 1, 2009, through September 30, 2010, shall remain available for obligation for an additional period of 12 months, to September 30, 2011.
Title 34 of CFR, Section 80.21(i), also requires that any interest earned by LEAs on federal dollars be returned to the ED at least quarterly. LEAs may keep interest amounts up to $100 per year for administrative expenses. LEAs should forward interest payments for remittance to the ED to:
California Department of Education
Cashier's Office
P.O. Box 515006
Sacramento, CA 95851
To ensure proper posting of payments, please include the program's PCA number (PCA 14346) and identify the payment as "Federal Interest Returned."
Warrants will be mailed to county treasurers approximately four weeks from the date of this Notice. For standardized account code structure (SACS) coding, use Resource Code 4203, NCLB: Title III, Limited English Proficient (LEP) Student Program, and Revenue Object Code 8290, All Other Federal Revenue. County superintendents of schools are requested to inform LEAs immediately of this apportionment.
To view the schedule of apportionment showing the list of school districts, by county, that generated each payment, please visit the California Department of Education Categorical Programs Web site at http://www.cde.ca.gov/fg/aa/ca/.
If you have any questions regarding the program or the amount of your apportionment, please contact Patty Stevens, Associate Governmental Program Analyst, Language Policy and Leadership Office, by phone at 916-323-5838 or by e-mail at pstevens@cde.ca.gov. If you have any questions regarding the payment process, please contact Karen Almquist, Categorical Allocations and Audit Resolution Office, by phone at 916-327-4406 or by e-mail at kalmquis@cde.ca.gov [Note: the preceding contact information is no longer valid and is replaced by Leslie Sharp, Fiscal Consultant, Categorical Allocations and Audit Resolution Office, by phone at 916-323-4977 or by e-mail at lsharp@cde.ca.gov].
Sincerely,
Susan Lange, Deputy Superintendent
Finance, Technology, and Administration Branch
Last Reviewed: Monday, July 18, 2016