Ltr3-11: New CS Supplemental Categ Block Grant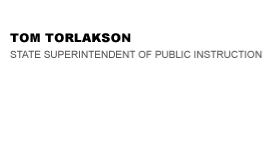 California Department of Education
Official Letter
California Department of Education
Official Letter
April 14, 2014
Dear Tulare County Superintendent of Schools:
NOTICE OF THE THIRD APPORTIONMENT FOR THE
NEW CHARTER SCHOOL SUPPLEMENTAL CATEGORICAL BLOCK GRANT
FISCAL YEAR 2011–12
This apportionment, in the amount of $1,428, is made from funds provided in Item 6110-212-0001 of the Budget Act of 2011 (Chapter 33, Statutes of 2011). Funding is provided to new charter schools that began operation during or after the 2008–09 fiscal year; the funds may be used for any educational purpose.
The amount paid in this apportionment for Loma Vista Charter School (CDS Code 54-71993-0124776, Charter Number 1329) reflects 100 percent of the final New Charter School Supplemental Categorical Block Grant entitlement for fiscal year 2011–12, less funds previously apportioned. The entitlement was calculated based on a rate of $127 per unit of funded charter school average daily attendance. Funding for Loma Vista Charter School was restored after the charter school received an approved funding determination for nonclassroom-based instruction from the State Board of Education, which was not previously available.
The schedule of apportionment reflects funding for Loma Vista Charter School, included in amount under Lindsay Unified School District. A charter school that receives funding pursuant to this grant shall not receive additional funding for programs specified in paragraph (2) of subdivision (a) of the Education Code Section 42605, with the exception of the program funded pursuant to Item 6110-211-0001 of Section 2.00 of the annual Budget Act (Charter School Categorical Block Grant).
The California Department of Education (CDE) notified the Tulare County Superintendent of Schools of this apportionment by e-mail, addressed to the county's CDEfisc e-mail address. The e-mail contains a link to the New Charter School Supplemental Categorical Block Grant Web page at http://www.cde.ca.gov/fg/fo/r14/ncscategbg11result.asp, where the letter and schedule for this apportionment is posted. The CDE requests that the e-mail be forwarded to the affected district and charter school in the county, to immediately inform them of this apportionment.
A warrant will be mailed to the county treasurer within approximately three weeks from the date of this Notice. For standardized account code structure coding, use Resource Code 0000, Unrestricted, and Revenue Object Code 8590, All Other State Revenue.
If you have any questions regarding this apportionment, please contact Thi Huynh, Fiscal Consultant, Office of Charter Apportionments and District Reorganization, by phone at 916-324-4555 or by e-mail at thuynh@cde.ca.gov.
Sincerely,



Jeannie Oropeza, Deputy Superintendent
Services for Administration, Finance, Technology, and Infrastructure Branch
JO:th
Last Reviewed: Monday, March 21, 2016