Ltr1-12: New CS Supplemental Categ Block Grant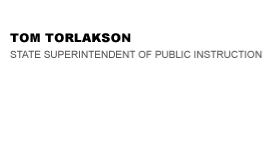 California Department of Education
Official Letter
California Department of Education
Official Letter
Dear County Superintendents of Schools:
NOTICE OF THE FIRST APPORTIONMENT FOR THE
NEW CHARTER SCHOOL SUPPLEMENTAL CATEGORICAL BLOCK GRANT
FISCAL YEAR 2012–13
This apportionment, in the amount of $6,910,914, is made from funds provided in Item 6110-212-0001 of the Budget Act of 2012 (Chapter 31, Statutes of 2012). Funding is provided to new charter schools that began operation during or after the 2008–09 fiscal year; the funds may be used for any educational purpose.
The amount paid in this apportionment reflects 50 percent of each charter school's preliminary New Charter School Supplemental Categorical Block Grant entitlement. Preliminary entitlements were calculated for each new charter school that began operation during or after the 2008–09 fiscal year at a rate of $127 per unit of charter school average daily attendance (ADA) at the 2012–13 first principal apportionment. Final entitlements will be calculated based on each charter school's ADA at the 2012–13 second principal apportionment.
Starting in fiscal year 2011–12, locally or direct funded charter schools that converted from a pre-existing school between the 2008–09 and 2014–15 fiscal years are not eligible for this funding. In-lieu of the New Charter School Supplemental Categorical Block Grant funding, school districts shall provide these new conversion charter schools that commenced operations within the district during or after the 2008–09 fiscal year, $127 per unit of ADA at the current year second principal apportionment. However, a school district and a new conversion charter school are not precluded from negotiating an alternative funding rate.
The schedule of apportionment identifies the amount for direct-funded charter schools separate from the district or county amount. Funding associated with all locally funded charter schools is included in the district or county amount. A detailed list providing each new charter school's preliminary school level entitlement is posted on the California Department of Education's (CDE) Categorical Programs Web site. A charter school that receives funding pursuant to this grant shall not receive additional funding for programs specified in paragraph (2) of subdivision (a) of the Education Code Section 42605, with the exception of the program funded pursuant to Item 6110-211-0001 of Section 2.00 of the annual Budget Act (Charter School Categorical Block Grant).
The CDE notified county superintendents of schools of this apportionment by e-mail, addressed to the county's CDEfisc e-mail address. The e-mail contains a link to the CDE Categorical Programs Web site at http://www.cde.ca.gov/fg/aa/ca/, where under the program name New Charter School Supplemental Categorical Block Grant, the letter and schedule for this apportionment is posted. The CDE requests that the e-mail be forwarded to all local educational agencies in the county, including direct funded charter schools, to immediately inform them of this apportionment.
Warrants will be mailed to each county treasurer within approximately three weeks from the date of this Notice. For standardized account code structure coding, use Resource Code 0000, Unrestricted, and Revenue Object Code 8590, All Other State Revenue.
If you have any questions regarding this apportionment, please contact Thi Huynh, Fiscal Consultant, Office of Charter Apportionments and District Reorganization, by phone at 916-324-4555 or by e-mail at thuynh@cde.ca.gov. [Note: the preceding contact is no longer valid and has been replaced by Office of Principal Apportionment and Special Education, by phone at 916-324-4541 or by e-mail at pase@cde.ca.gov.]
Sincerely,



Jeannie Oropeza, Deputy Superintendent
Services for Administration, Finance, Technology, and Infrastructure Branch
JO:th
Last Reviewed: Monday, January 9, 2017