Ltr4-10: Pupil Transportation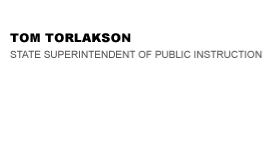 California Department of Education
Official Letter
California Department of Education
Official Letter
Dear County Superintendents of Schools:
NOTICE OF APPORTIONMENT
FOR THE PUPIL TRANSPORTATION PROGRAM
APRIL 2012 CERTIFICATION
FISCAL YEAR 2010–11
This apportionment, in the amount of $3,672,153, is made from funds provided by Schedule (1) of Item 6110-111-0001 of the Budget Act of 2010 (Chapter 712, Statutes of 2010). This apportionment reflects a final recalculation of each local educational agency's entitlement amount.
Warrants will be mailed to each county treasurer approximately three weeks from the date of this Notice. For standardized account code structure coding, use Resource Code 7230, Transportation: Home to School, or Resource Code 7240, Transportation: Special Education (SD/OI), and Revenue Object Code 8311, Other State Apportionments-Current Year, for both home-to-school and special education transportation. For prior year adjustments, use Revenue Object Code 8319, Other State Apportionments-Prior Year.
The county superintendents of schools were notified of this apportionment by e-mail which was sent to their CDEfisc e-mail addresses. The California Department of Education (CDE) requested that the e-mail be forwarded to all school districts in the county that are listed on the apportionment schedule, and included a link to the CDE Categorical Programs Web page at: http://www.cde.ca.gov/fg/aa/ca/ where, under the program name, the letter and schedule for this apportionment are posted.
If you have any questions regarding this apportionment, please contact Christina Kersey, Assistant Fiscal Consultant, Categorical Allocations and Management Assistance Unit, by phone at 916-324-9806 or by e-mail at ckersey@cde.ca.gov [Note: the preceding contact information is no longer valid and has been replaced by Julie Klein Briggs, Fiscal Consultant, Categorical Allocations & Management Assistance Unit, by phone at 916-323-6191 or by e-mail at jbriggs@cde.ca.gov.]
Sincerely,
Jeannie Oropeza, Deputy Superintendent
Services for Administration, Finance, Technology, and Infrastructure Branch
Last Reviewed: Wednesday, August 10, 2016