Ltr1-11: Pupil Transportation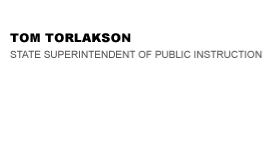 California Department of Education
Official Letter
California Department of Education
Official Letter
Dear County Superintendents of Schools:
NOTICE OF APPORTIONMENT
FOR THE PUPIL TRANSPORTATION PROGRAM
JULY 2011 CERTIFICATION
FISCAL YEAR 2011-12
This apportionment, in the amount of $479,754,954, is made from funds provided by Schedule (1) of Item 6110-111-0001 of the Budget Act of 2011 (Chapter 33, Statutes of 2011). This apportionment certifies local educational agencies' (LEAs') estimated 2011-12 entitlements for Pupil Transportation.
Warrants will be mailed to each county treasurer approximately three weeks from the date of this Notice. For standardized account code structure coding, use Resource Code 7230, Transportation: Home to School, or Resource Code 7240, Transportation: Special Education (SD/OI), and Revenue Object Code 8311, Other State Apportionments-Current Year, for both home-to-school and special education transportation. For prior year adjustments, use Revenue Object Code 8319, Other State Apportionments-Prior Year.
The county superintendents of schools were notified of this apportionment by e-mail which was sent to their CDEfisc e-mail addresses. The California Department of Education (CDE) requested that the e-mail be forwarded to all school districts and charter schools in the county, and included a link to the CDE Categorical Programs Web page at http://www.cde.ca.gov/fg/aa/ca/ where, under the program name, the letter and schedule for this apportionment are posted.
Pursuant to the provisions of California Education Code (EC) Section 14041, payments for the Special Purpose Apportionment (which consists solely of Pupil Transportation funds) are to be made in twelve installments beginning in July and ending in June. The July and August payments are equal to five percent of each LEA's estimated 2011-12 apportionment, and nine percent in each month thereafter through the following June. The August 2011 warrant for each LEA will consist of the July and August payments and will be equal to ten percent of each LEA's estimated entitlement. Thereafter, LEAs will receive a payment equal to nine percent of their annual entitlements in September through June 2012.
Calculation of 2011-12 Entitlements
With this apportionment, funds are advanced based on the calculation of estimated Home-to-School Transportation and estimated Special Education Transportation entitlements for 2011-12. Estimated entitlements were calculated based on actual 2010-11 entitlements which were adjusted to reflect reorganizations that were effective as of July 1, 2011, notifications of transfers and terminations of service that were submitted prior to July 15, 2011, revised 2009-10 expenditure data that were submitted after the final certification of 2010-11 entitlements, and a 19.4 percent funding reduction established in Control Section 12.42 of the Budget Act. The state budget did not provide funding for a growth or cost of living adjustment. The certified estimated apportionment reflects adjustments to recover prior year overpayments of Pupil Transportation funds.
An LEA must have spent in fiscal year 2010-11 an amount equal to or greater than its 2010-11 final entitlement in order to avoid a permanent reduction to its 2011-12 entitlement. Each LEA's 2011-12 entitlement will be calculated as the lesser of its 2010-11 expenditures or 2010-11 allowance (entitlement). If an LEA spends in 2010-11 an amount equal to its 2010-11 state apportionment for pupil transportation, which is its 2010-11 entitlement minus the Control Section 12.42 cut, it will incur a permanent reduction to its 2011-12 entitlement.
Basic Aid Reductions
Section 56 of Senate Bill (SB) 70 (Chapter 7, Statutes of 2011) requires that categorical funding allocations in fiscal year 2011-12 to school districts that were basic aid in 2010-11 be reduced by the lesser of: (1) the district's 2010-11 total revenue subject to the deficit factor, calculated as of the 2010-11 certified second principal apportionment, multiplied by 8.92 percent, or (2) the amount of the district's excess taxes. Section 57 of SB 70 enacts a cut of identical size in fiscal year 2012-13 to school districts that were basic aid in 2011-12. The list of categorical programs from which the CDE may recover funds in satisfaction of the basic aid cut includes the pupil transportation program, therefore, districts that are basic aid in 2011-12 may experience basic aid reductions to Pupil Transportation in fiscal year 2011-12 or 2012-13. In implementation of SB 70, we have reduced the amount paid to basic aid districts in this apportionment. To view the list of basic aid districts and the total amount to be reduced from their 2011-12 categorical funding allocations, please go to the CDE Web page at http://www.cde.ca.gov/fg/aa/ca/documents/basicaidcut2011.xls. Basic aid districts will be held harmless from these reductions in the calculation of fiscal year 2011-12 Pupil Transportation entitlements as described below.
2011-12 through 2013-14 Calculation of Entitlements for Basic Aid Districts
To satisfy the 2010-11 basic aid reduction requirements, the CDE recouped district funds from a number of categorical programs, generally, in the order in which funds were first apportioned. In this way, not all basic aid districts had funds recovered from their Pupil Transportation apportionments. A school district that did receive a reduction to its Pupil Transportation funding will be held harmless in the calculation of its 2011-12 entitlement. Specifically, a basic aid district's 2011-12 entitlement will be calculated as the lesser of its 2010-11 entitlement (calculated prior to the Control Section 12.42 reduction) and the sum of its 2010-11 expenditures and its 2010-11 basic aid cut to pupil transportation. The same calculation method will be used in fiscal years 2012-13 and 2013-14.
Charter Schools
Charter schools, with few exceptions, receive Pupil Transportation funding through the charter school categorical funding model (EC, commencing with Section 47633). This funding model provides categorical block grant funds in lieu of various categorical programs, including Pupil Transportation. These block grant funds are allocated as part of the Principal Apportionment process. LEAs and charter schools may wish to consider this in their discussions about how to provide transportation services to charter school pupils.
If you have any questions regarding this apportionment, please contact Christina Schlueter, Assistant Fiscal Consultant, Categorical Allocations and Management Assistance Unit, by phone at 916-324-9806 or by e-mail at cschlueter@cde.ca.gov. [Note: the preceding contact information is no longer valid and has been replaced by Julie Klein Briggs, Fiscal Consultant, Categorical Allocations & Management Assistance Unit, by phone at 916-323-6191 or by e-mail at jbriggs@cde.ca.gov.]
Sincerely,
Jeannie Oropeza, Deputy Superintendent
Finance, Technology, and Administration Branch
Last Reviewed: Monday, August 22, 2016