Ltr1-13: Pupil Transportation for JPA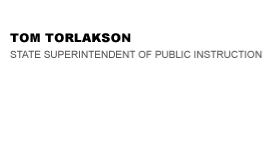 California Department of Education
Official Letter
California Department of Education
Official Letter
October 21, 2013
Dear Select County Superintendents of Schools and Joint Powers Agencies:
NOTICE OF APPORTIONMENT TO JOINT POWERS AGENCIES
FOR PUPIL TRANSPORTATION
FISCAL YEAR 2013–14
This apportionment in the amount of $13,691,798, is made in accordance with California Education Code Section 42238.03(a)(6)(A)(ii), as added by Section 21 of Senate Bill 97 (Chapter 357, Statutes of 2013). The purpose of this apportionment is to provide funding to joint powers agencies (JPAs) that received funding directly from the state for the 2012–13 Pupil Transportation program. In fiscal years 2013–14 and 2014–15, JPAs are eligible to receive the same amount of funding that was received in fiscal year 2012–13. This apportionment reflects 100 percent of each JPA's entitlement for fiscal year 2013–14. The amounts certified for each JPA are identified on the enclosed payment schedule.
Warrants will be mailed to each county treasurer approximately three weeks from the date of this Notice. The California Department of Education (CDE) is currently working to determine the appropriate Standardized Account Code Structure (SACS) coding for the Local Control Funding Formula. In the meantime, pending accounting guidance from the CDE, for SACS coding purposes the funds received in this apportionment should be recorded in Resource Code 0000, Unrestricted, revenue Object Code 8311, Other State Apportionments–Current Year.
The select county superintendents of schools were notified of this apportionment by e-mail which was sent to their CDEfisc e-mail addresses. The CDE requested that the e-mail be forwarded to each JPA in the county, and included a link to the CDE Categorical Programs Web page at http://www.cde.ca.gov/fg/aa/ca/ where, under the program name, the letter and schedule for this apportionment are posted.
If you have questions regarding this apportionment, please contact Julie Klein Briggs, Fiscal Consultant, Categorical Allocations and Management Assistance Unit, by phone at 916-323-6191 or by e-mail at jbriggs@cde.ca.gov.
Sincerely,
Jeannie Oropeza, Deputy Superintendent
Services for Administration, Finance, Technology, and Infrastructure Branch
Last Reviewed: Wednesday, February 1, 2017