Ltr1-12: QEIA County Oversight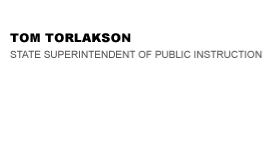 California Department of Education
Official Letter
California Department of Education
Official Letter
Dear County Superintendents of Schools:
NOTICE OF THE FIRST APPORTIONMENT FOR THE
COUNTY OVERSIGHT RELATED TO THE
QUALITY EDUCATION INVESTMENT ACT OF 2006
FISCAL YEAR 2012–13
This apportionment, in the amount of $1,600,000, is made from funds provided in Senate Bill (SB) 1133 (Chapter 751, Statutes of 2006) as amended by SB 1016 (Chapter 38, Statutes of 2012). Funding is in support of the Quality Education Investment Act of 2006 (QEIA), established in California Education Code (EC) sections 52055.700 through 52055.780. This apportionment provides a payment to county offices of education (COEs) in support of county oversight activities associated with the QEIA program equal to 80 percent of the 2012–13 entitlements.
Pursuant to EC Section 52055.770(i)(1), the formula for allocating these funds is similar to that for allocating funds to COEs in support of county oversight activities required under the Williams v. California settlement agreement. Consistent with that formula, established in EC Section 1242, COEs receive $2,500 per participating elementary school, $3,500 per participating middle or junior high school, and $5,000 per participating high school for QEIA oversight activities. They also receive additional funding for participating schools whose 2011 California Basic Educational Data System enrollment exceeds certain thresholds, as follows:
$2.50 for each pupil that exceeds a total elementary school enrollment of 856 pupils.
$3.50 for each pupil that exceeds a total middle or junior high school enrollment of 1,427 pupils.
$5.00 for each pupil that exceeds a total high school enrollment of 2,296 pupils.
Overall, each COE will receive no less than $10,000.
California Education Code Section 52055.770(i) provides that not more than $2,000,000 will be provided to COEs for this program.
Warrants will be mailed to each county treasurer approximately four weeks from the date of this Notice. For standardized account code structure (SACS) coding, use Resource Code 7400, Quality Education Investment Act, and Revenue Object Code 8590, All Other State Revenue.
Letters of apportionment from the California Department of Education's (CDE's) School Fiscal Services Division are no longer mailed to the county superintendents of schools. Instead, county superintendents will be notified of each apportionment by e-mail. Accordingly, the CDE has sent an e-mail to each county superintendent, addressed to the county's CDEfisc e-mail address, to inform him or her of this apportionment. The e-mail contained a link to the CDE Categorical Programs Web page at http://www.cde.ca.gov/fg/aa/ca/ where, under the program name, the letter and schedule for this apportionment are posted, as well as entitlements for local educational agencies that are not being paid in this apportionment. The CDE requested that the e‑mail be forwarded to all school districts and charter schools in the county.
If you have any questions regarding this program, please contact Marsha Porte, Program Consultant, School Turnaround Office, by phone at 916-319-0352 or by e‑mail at MPorte@cde.ca.gov. If you have any questions regarding this apportionment or the payment process, please contact Karen Almquist, Fiscal Consultant, Categorical Allocations and Management Assistance Office, by phone at 916-327-4406 or by e-mail at Kalmquis@cde.ca.gov [Note: the preceding contact information is no longer valid and has been replaced by Julie Klein Briggs, Fiscal Consultant, Categorical Allocations & Management Assistance Unit, by phone at 916-323-6191 or by e-mail at jbriggs@cde.ca.gov.]
Sincerely,
Jeannie Oropeza, Deputy Superintendent
Finance, Technology, and Administration Branch
Last Reviewed: Monday, March 7, 2016