Ltr1-11: Readers Services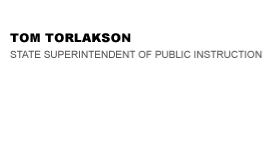 California Department of Education
Official Letter
California Department of Education
Official Letter
Dear County Superintendents of Schools:
NOTICE OF THE FIRST APPORTIONMENT FOR THE
READER SERVICES FOR LEGALLY BLIND TEACHERS PROGRAM
FISCAL YEAR 2011-12
This apportionment, in the amount of $298,657, is made from funds provided in Schedule (3) of Item 6110-193-0001, Reader Services for Legally Blind Teachers, of the Budget Act of 2011 (Chapter 33, Statutes of 2011).
Warrants will be mailed to each county treasurer and to the California School for the Blind (Fremont) approximately four weeks from the date of this Notice. To view the schedule of apportionment, please visit the California Department of Education (CDE) Categorical Programs Web page at http://www.cde.ca.gov/fg/aa/ca/, where under the program name, the schedule and this letter are posted. For standardized account code structure coding, use Resource Code 0000, Unrestricted, and Revenue Object Code 8590, All Other State Revenue.
Letters of apportionment from the CDE's School Fiscal Services Division are no longer mailed to the county superintendents of schools. Instead, county superintendents are notified of each apportionment by e-mail. Accordingly, the CDE has sent an e-mail to each county superintendent, addressed to the county's CDEfisc e-mail address, to inform him or her of this apportionment and request that the e-mail be forwarded to the school districts and charters schools in the county.
California Education Code (EC) Section 42605 authorizes complete flexibility by a school district, county office of education, and charter school in the use of funds appropriated in the state budget for fiscal years 2008-09 through 2014-15 for numerous budget items, including the funds for the Reader Services for Legally Blind Teachers Program which were previously allocated as unrestricted. School districts, county offices of education, and charter schools may now use the funds formerly restricted to these programs for any educational purpose. Program and funding requirements as otherwise provided in statute, regulation, and budget act provisional language associated with the funding are not in effect.
This apportionment provides 100 percent of each local educational agency's (LEA's) 2011-12 Reader Services for Legally Blind Teachers Program entitlement. These entitlements were calculated based on the relative share that each LEA received of 2007-08 program funds, then reduced to reflect the decrease in funding that was enacted in Control Section 12.42 of the Budget Act of 2011.
Senate Bill (SB) 70 requires that 2011-12 categorical funding allocations to school districts that were basic aid in fiscal year 2010-11 be reduced by the lesser of: (1) the district's 2010-11 total revenue limit subject to the deficit factor, calculated as of the 2010-11 certified second principal apportionment, multiplied by 8.92 percent or (2) the amount of the district's excess taxes. In implementation of SB 70, we have reduced the amount paid to basic aid districts in this apportionment. The apportionment reduction for basic aid school districts applies to fiscal year 2011-12 only and their entitlement to funds in subsequent years for this program will not be affected. To view the list of basic aid districts and the total amount to be reduced from their 2011-12 categorical funding allocations, please go to the CDE Web page at http://www.cde.ca.gov/fg/aa/ca/documents/basicaidcut2011.xls.
If you have questions regarding this apportionment, please contact Janice Huarte, Fiscal Analyst, Categorical Allocations and Management Assistance Office, by phone at 916-322-9128 or by e-mail at jhuarte@cde.ca.gov [Note, the preceding contact information is no longer valid.]
Sincerely,
Jeannie Oropeza, Deputy Superintendent
Finance, Technology, and Administration Branch
Last Reviewed: Thursday, April 14, 2016