Ltr2-08: SSDCOEBR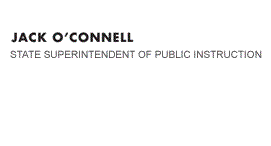 California Department of Education
Official Letter
California Department of Education
Official Letter
Dear Select County Superintendents of Schools and Treasurers:
NOTICE OF THE SECOND APPORTIONMENT FOR THE
SMALL SCHOOL DISTRICT AND COUNTY OFFICE OF EDUCATION
BUS REPLACEMENT PROGRAM
FISCAL YEAR 2008-09
This apportionment, in the amount of $1,125,619, is made from funds provided by Schedule (2) of Item 6110-111-3116 of the Budget Act of 2008 (Chapters 268 and 269, Statutes of 2008 as amended by Senate Bill 4 of the Third Extraordinary Session, Chapter 12, Statutes of 2009), for the purchase of replacement buses for small school districts and county offices of education as provided by California Education Code sections 42290-42293, 42301.1, and 42303. Bus replacement funds are paid in two installments. The first 25 percent is paid after qualifying for funds and the remaining 75 percent is paid after receipt of the new bus and disposal of the old bus. This apportionment represents the final 75 percent payment for all of the local educational agencies (LEAs) included on the apportionment schedule.
County superintendents of schools are requested to inform LEAs, including direct-funded charter schools, immediately of this apportionment. To view the schedule of apportionment, please visit the California Department of Education Categorical Programs Web page at http://www.cde.ca.gov/fg/aa/ca/. Warrants will be mailed to each county treasurer approximately four weeks from the date of this Notice. For standardized account code structure coding, use Resource Code 7235, Transportation: School Bus Replacement, and Revenue Object Code 8590, All Other State Revenue.
Eligibility for bus replacement funds is limited to buses manufactured prior to 1992. The allocation of funds uses ranking methods based on "excess age" and mileage, or condition of the bus, as specified in the program information manual dated July 2008.
The program information manual also states that the total funding an agency will receive is limited to the net local cost of purchasing a new bus. If the net local cost is less than the award amount, the agency award will be reduced to the net local cost. Revised entitlements on this apportionment reflect reductions to the initial award amount due to the actual purchase price.
If you have any questions regarding this apportionment, please contact Christina Schlueter, Analyst, Categorical Allocations and Management Assistance, by phone at 916-324-9806 or by e-mail at cschlueter@cde.ca.gov [Note: the preceding contact information is no longer valid and has been replaced by Tonya Holmes, Fiscal Analyst, Categorical Allocations & Management Assistance Unit, by phone at 916-323-6028 or by e-mail at tholmes@cde.ca.gov.]
Sincerely,
Susan Lange, Deputy Superintendent
Finance, Technology, and Administration Branch
Last Reviewed: Tuesday, August 9, 2016