Ltr1d-08: School Safety and Violence Prevention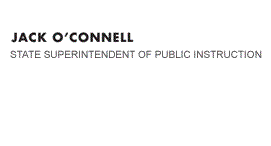 California Department of Education
Official Letter
California Department of Education
Official Letter
Dear County Superintendents of Schools, Auditors, and Treasurers:
NOTICE OF THE FIRST APPORTIONMENT FOR THE CARL WASHINGTON
SCHOOL SAFETY AND VIOLENCE PREVENTION ACT PROGRAM
GRADES EIGHT THROUGH TWELVE
FISCAL YEAR 2008-09
This apportionment, in the amount of $45,926,000, is made from funds provided in Item 6110-228-0001, School Safety Block Grant, of the Budget Act of 2008, Chapters 268 and 269, Statutes of 2008, as amended by Senate Bill 4 of the 2009-10 Third Extraordinary Session, Chapter 12, Statutes of 2009 (SBX3 4).
Funding in support of the 2008-09 program comes from two sources, as follows: (1) $45,926,000, which provides the funds for this apportionment for school districts; and (2) $38,720,000 in funds deferred from 2008-09 to 2009-10, $846,000 of which is set aside for county offices of education (COEs). These are the reduced funding levels pursuant to SBX3 4.
The 2008-09 program entitlements were calculated by first determining an amount for each school district equal to a rate of $32.92 for each pupil enrolled in grades eight through twelve, using the counts from the October 2007 California Basic Educational Data System, with a minimum allocation of $5,000 per school site or $10,000 per local educational agency (LEA), whichever is greater, and then proportionately reducing that amount based on the budget item reduction pursuant to SBX3 4.
This apportionment is being paid to LEAs that indicated on the 2008-09 Consolidated Application Part I their intent to participate in the School Safety and Violence Prevention program. Participating school districts are receiving approximately 54.80 percent of their school safety entitlements from this apportionment. The deferred funds will be paid in a separate apportionment in July 2009 and will fund the remaining entitlement for school districts and the full entitlement for COEs.
California Education Code (EC) Section 42605, added by SBX3 4, authorizes complete flexibility by a school district, COE, and charter school in the use of funds appropriated in the state budget for fiscal years 2008-09 through 2012-2013 for numerous budget items, including the funding formerly restricted to the School Safety and Violence Prevention program. School districts, COEs, and charter schools may now use the funds formerly restricted to this program for any educational purpose. Program and funding requirements as otherwise provided in statute, regulation, and budget act provisional language associated with the funding are not in effect. The funds are therefore unrestricted and should be accounted for as such.
For standardized account code structure (SACS) coding, use Resource Code 0000, Unrestricted, and Revenue Object Code 8590, All Other State Revenue. If you wish to continue to record activities related to these funds, for 2008-09 only, in Resource Code 6405, School Safety & Violence Prevention, Grades 8-12, and Revenue Object Code 8590, please review the additional guidance in CDE's letter titled Fiscal Issues Relating to Budget Reductions and Flexibility Provisions, dated April 17, 2009, in the section "Accounting Issues Unique to 2008-09," beginning on page 11. This letter contains in-depth guidance on accounting for the funds and balances made unrestricted pursuant to the flexibility provisions of SBX3 4; it is available at http://www.cde.ca.gov/fg/ac/co/.
Charter schools that receive funding through the Charter School Categorical Block Grant (CSCBG), allocated as part of the principal apportionment, are not eligible to receive funds from School Safety and Violence Prevention; this is one of the programs for which block grant funded charter schools may not apply separately, pursuant to EC Section 47634.4.
County superintendents of schools are requested to inform LEAs immediately regarding this apportionment. Warrants will be mailed to each county treasurer approximately four weeks from the date of this Notice.
To view the schedule of apportionment, please visit the CDE Categorical Programs Web site at http://www.cde.ca.gov/fg/aa/ca/ssvpp.asp.
If you have any questions regarding the program, please contact Kelli Omoto-Lee, Program Analyst, Safe and Healthy Kids Program Office, at 916-319-0195 or by e-mail at komoto@cde.ca.gov. If you have any questions regarding this apportionment, please contact Nancy Cook, Fiscal Analyst, Categorical Allocations and Audit Resolution Office, at 916-324-4549 or by e-mail at ncook@cde.ca.gov [Note: the preceding contact information is no longer valid.]
Sincerely,
Susan Lange, Deputy Superintendent
Finance, Technology, and Administration Branch
Last Reviewed: Monday, June 6, 2016