Ltr1-16: Student Friendly Services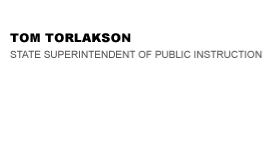 California Department of Education
Official Letter
California Department of Education
Official Letter
August 26, 2016
Dear Riverside County Superintendent of Schools:
APPORTIONMENT TO THE
RIVERSIDE COUNTY OFFICE OF EDUCATION
FOR STUDENT FRIENDLY SERVICES
FISCAL YEAR 2016–17
This apportionment, in the amount of $2,500,000, is made to the Riverside County Office of Education (RCOE) from funds provided in Item 6100-172-0001 of the Budget Act of 2016 (Chapter 23, Statutes of 2016). These funds are apportioned to RCOE for support of online tools to provide: (a) information regarding college planning and preparation primarily to students in middle school, high school, and community college and to their parents, teachers, and school counselors, and (b) services related to college preparation and matriculation, such as the transmission of high school transcripts and test scores to colleges and universities. The amount apportioned is equal to 100 percent of the RCOE's 2016–17 entitlement.
Pursuant to Provision 2 of Item 6100-172-0001, the RCOE shall report to the State Department of Education, the Director of Finance, and the Legislature regarding the expenditures supported by this appropriation, including the number and categories of students who accessed services.
The RCOE was notified of this apportionment by e-mail, which was sent to its CDEfisc e-mail address. A warrant will be mailed to the Riverside County Treasurer approximately four weeks from the date of this Notice. For standardized account code structure coding, use Resource Code 7410, Student Friendly Services, and Revenue Object Code 8590, All Other State Revenue.
If you have any questions regarding this apportionment or the payment process, please contact Kathy Mathews, Education Fiscal Services Consultant, School Fiscal Services Division, by phone at 916-322-1647 or by e-mail at kmathews@cde.ca.gov [Note: The preceding information is no longer valid. Please contact the Categoical Allocations and Audit Resolutions Office at CAAR@cde.ca.gov.].
Sincerely,
Peter Foggiato, Director
School Fiscal Services Division
Last Reviewed: Tuesday, June 28, 2022