Ltr-08: TIIBG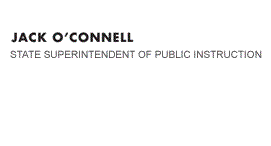 California Department of Education
Official Letter
California Department of Education
Official Letter
July 1, 2008
Dear County Superintendents of Schools, Auditors, and Treasurers:
NOTICE OF THE FIRST APPORTIONMENT FOR THE
TARGETED INSTRUCTIONAL IMPROVEMENT BLOCK GRANT
FISCAL YEAR 2008-09
(AMOUNTS DEFERRED FROM FISCAL YEAR 2007-08)
This apportionment, in the amount of $100,118,000, is made from funds provided by Item 6110-246-0001 of the Budget Act of 2007 (Chapter 171, Statutes of 2007) in support of the Targeted Instructional Improvement Block Grant (TIIBG). The TIIBG was established by Assembly Bill (AB) 825 (Chapter 871, Statutes of 2004), and combines into one block grant funds from the former Targeted Instructional Improvement Grant (TIIG) and Supplemental Grants (SG) programs.
Each school district's 2007-08 TIIBG entitlement is equal to the amount of funding received in 2006-07, decreased by 0.48 percent for the rate of decline in statewide average daily attendance and increased by 4.53 percent for the cost-of-living adjustment. Funding for the 2007-08 program entitlements comes from two sources, as follows: (1) $975,613,000 from Item 6110-246-0001 in the Budget Act of 2007 which provides funds for this apportionment; and (2) $100,118,000 in funds deferred from 2007-08 to 2008-09 pursuant to the provisions of Senate Bill 80 (Chapter 174, Statutes of 2007), Section 38(a)(10).
This apportionment provides to each district the portion of the TIIBG funding that was deferred from fiscal year 2007-08 to 2008-09. To view the schedule of apportionment, please visit the California Department of Education Categorical Program Web site at http://www.cde.ca.gov/fg/aa/ca/.
AB 825 repealed the California Education Code sections governing the TIIG and SG programs and provides that after satisfying any court-ordered desegregation requirements, a district may spend TIIBG funds for any purpose authorized by the statutes of the TIIG and SG programs as they read on January 1, 2004. TIIG allowed funds to be expended for the costs of court-ordered and voluntary desegregation programs and to provide for instructional improvement for the lowest achieving pupils in the district. SG allowed expenditures to supplement the funding of in excess of twenty categorical programs listed in the SG statute. Districts are no longer held to their previous designations of SG funds. For more information on the block grant, please refer to our Web site at http://www.cde.ca.gov/fg/aa/ca/.
Charter schools that receive funding through the Charter School Categorical Block Grant (CSCBG) are not eligible to receive funds from the TIIBG because it is included in the statutory list of programs for which charter schools may not apply separately due to participation in the CSCBG. Districtwide charter schools that do not receive CSCBG funds are eligible to receive TIIBG funds if they received SG program funds in 2003-04, which is the base year for establishing eligibility for the TIIBG. Charter schools were not eligible for TIIG in the 2003-04.
Warrants will be mailed to each county treasurer approximately four weeks from the date of this Notice. For standardized account code structure coding, use Resource Code 7394, Targeted Instructional Improvement Block Grant, and Revenue Object Code 8590, All Other State Revenue. County superintendents of schools are requested to inform local educational agencies immediately of this apportionment.
If you have any questions regarding this apportionment, please contact Christina Schlueter, Fiscal Analyst, Categorical Programs Unit, at 916-324-9806 or by e-mail at cschlueter@cde.ca.gov [Note: the preceding contact information is no longer valid and has been replaced by Julie Klein Briggs, Fiscal Consultant, Categorical Allocations & Management Assistance Unit, by phone at 916-323-6191 or by e-mail at jbriggs@cde.ca.gov.].
Sincerely,
Susan Lange, Deputy Superintendent
Finance, Technology, and Administration Branch
Last Reviewed: Wednesday, January 18, 2017