Ltr-08: Valenz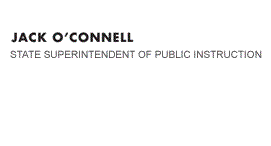 California Department of Education
Official Letter
California Department of Education
Official Letter
December 15, 2008
Dear County Superintendents of Schools, Auditors, and Treasurers:
NOTICE OF THE APPORTIONMENT FOR
COUNTY OVERSIGHT RELATED TO THE VALENZUELA CASE SETTLEMENT
FISCAL YEAR 2008-09
This apportionment, in the amount of $1,499,999, is made to county offices of education (COEs) from funds provided in Item 6110-266-0001 of the Budget Act of 2008 (Chapter 268 as amended by Chapter 269, Statutes of 2008) for county office oversight activities, as required by the California Education Code (EC) Section 1240(c)(2)(E) and related to the Valenzuela v. O'Connell (Valenzuela) case settlement.
Entitlements to funds were calculated based on a formula recommended by the California County Superintendents Educational Services Association, as required by Assembly Bill 347 (Chapter 526, Statutes of 2007). Under the formula, $2,000 is allocated to each county office of education (COE) if the county office or any school district or direct-funded charter school in the county received 2008-09 funds from the California High School Exit Examination (CAHSEE) Intensive Instruction and Services program. The remaining funds are allocated to these COEs based on a rate times the number of eligible pupils in the county that was reported in the September 2008 CAHSEE application process. In 2008-09, this rate is $5.57 per pupil. Eligible pupils are those pupils in grades eleven and twelve (classes of 2010 and 2009, respectively) who are required to pass the CAHSEE but failed one or both parts of the exam.
The amount paid in this apportionment equals 100 percent of each COE's 2008-09 entitlement to oversight funds related to the Valenzuela case settlement. To view the schedule of apportionment showing the payment to each county, and the list of county offices, school districts, and direct-funded charter schools and their eligible pupil counts that generated the payment, please go to the California Department of Education's Categorical Programs Web site at http://www.cde.ca.gov/fg/aa/ca/index.asp.
The funds must be used by COEs to verify that pupils who have not passed the high school exit exam by the end of grade twelve have been informed by their participating county office, school district, or direct-funded charter school that they are entitled to receive intensive instruction and services for up to two consecutive academic years after completion of grade twelve or until the pupil has passed both parts of the exit exam, whichever comes first, pursuant to EC Section 37254(d)(4) and (5). COEs also must verify that pupils who elected to receive intensive instruction and services are being served.
Warrants will be mailed to each county treasurer approximately four weeks from the date of this Notice. For standardized account code structure coding, use Resource Code 7385, County Oversight – Williams and Valenzuela Case, and Revenue Object Code 8590, All Other State Revenue.
If you have any questions regarding this apportionment, please contact Wendi McCaskill, Fiscal Consultant, Categorical Allocations and Management Assistance Office, at 916-323-6191 or by e-mail at wmccaskill@cde.ca.gov [Note: the preceding contact information is no longer valid and has been replaced by Julie Klein Briggs, Fiscal Consultant, Categorical Allocations and Management Assistance Unit, by phone at 916-323-6191 or by e-mail at jbriggs@cde.ca.gov.].
Sincerely,
Susan Lange, Deputy Superintendent
Finance, Technology, and Administration Branch
Last Reviewed: Tuesday, January 26, 2021