2008-09 CELDT Apportionment Notification Letter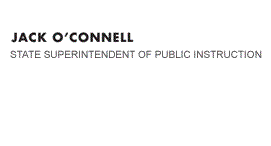 California Department of Education
Official Letter
California Department of Education
Official Letter
Dear Select County and District Superintendents, Charter School Administrators, County Auditors, and County Treasurers:
NOTICE OF APPORTIONMENT FOR THE
CALIFORNIA ENGLISH LANGUAGE DEVELOPMENT TEST
2008–09 TEST ADMINISTRATION, PAYMENT #1
Enclosed please find the Notice of Apportionment for the California English Language Development Test (CELDT) 2008–09 Test Administration, Payment No. 1, for fiscal year July 1, 2008 through June 30, 2009.
This apportionment, in the amount of $7,520,215.00, has been made from the General Trust Fund with expenditure authority established by the 2008–09 Budget Act, Item 6110-113-0001 (3) Assembly Bill X4 3. This apportionment is awarded to the listed California school districts for the CELDT 2008–09 test cycle in accordance with the criteria specified in California Education Code Section 60810.
The State Controller's Office will mail warrants to the listed County Treasurers. Funds are considered unrestricted and should be accounted for as Income Account 8590 of the General Fund.
If you have any questions regarding this apportionment, please contact Kerri Wong, Associate Governmental Program Analyst, CELDT Office, by phone at 916-319-0333 or by e-mail at kewong@cde.ca.gov.
Sincerely,

\s\

Deborah V.H. Sigman, Deputy Superintendent
Curriculum, Learning & Accountability Branch
DS:kw
Enclosures
FY 09/10, PCA 0570-25062
Last Reviewed: Monday, August 15, 2016