Letter from Rachel Perry for CELDT Bidders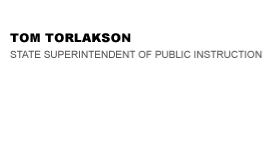 California Department of Education
Official Letter
California Department of Education
Official Letter
Dear Prospective Bidders:
REQUEST FOR PROPOSALS FOR THE CALIFORNIA ENGLISH LANGUAGE
DEVELOPMENT TEST ADMINISTRATION
The enclosed Request for Proposals (RFP) invites submission from eligible bidders for the administration of the California English Language Development Test (CELDT), as required by California Education Code Section 60810. Eligible bidders include sole proprietorships, partnerships, public or private agencies, unincorporated organizations or associations with at least 36 months of recent experience in the development, administration, scoring, reporting, and analysis of results of large-scale assessments. The bidder must be legally constituted and qualified to do business within the State of California (registered with the Secretary of State). With the exception of bidders whose legal status precludes incorporation (i.e., public agencies, sole proprietorships, partnerships), bidders that are not fully incorporated by the deadline for submitting proposals shall be disqualified.
It is anticipated that this contract will begin approximately on or after January 1, 2012, and will continue through December 31, 2015. The actual start date of the contract is contingent upon approval of the contract by the Department of General Services (DGS) and continued California Legislative authorization. The California Department of Education (CDE) anticipates a maximum of $34,105,000.00 will be available for this contract.
Interested applicants should note the timeline for application on page 69 of the enclosed RFP. Dates to note include:
July 27, 2011: The bidder's conference is to be held in Sacramento, CA at 2 p.m. Pacific Time (PT). Attendance is optional.
August 2, 2011: The Intent to Submit/Proposal should be returned by 5 p.m. PT at the CDE, Assessment and Accountability Division either via fax at 916-319-0967, or mailed to the address noted on p. 2 of this letter. The Intent to Submit/Proposal is optional.
August 2, 2011: All questions, with the exception of questions regarding the California Disabled Veteran Business Enterprise (DVBE) Participation Goals, must be submitted in the manner described in the RFP, Section 4.6 and must be received no later than 5 p.m. PT.
August 31, 2011: The Technical and Cost Proposals must be received by noon PT, at the CDE, Assessment and Accountability Division. The proposals must be received at the address noted below. Transmission of the proposal by electronic mail (modem/Internet) or fax will not be accepted.
Kerri Wong, Analyst
Assessment and Accountability Division
California Department of Education
1430 N Street, Suite 4202
Sacramento, CA 95814
September 21, 2011: The public bid opening of the Cost Proposal(s) is to be held in Sacramento, CA at 10 a.m. PT. Attendance is optional.
If you have any questions regarding the DVBE Participation Goals, please contact the CDE Contracts Office by phone at 916-445-8440.
Sincerely,
/s/
Rachel L. Perry, Director
Assessment and Accountability Division
RP:kw
Enclosure
NOTICE: The successful bidder's Technical Proposal and Cost Proposal will be incorporated into the final contract, which is a public document. All proposals (technical and cost) and related documents submitted pursuant to this RFP become the property of the State of California. All Technical Proposals and Cost Proposals that advance to the Cost Proposal Bid Opening are public documents and will be made available in their entirety for public inspection and reproduction. Submission of a proposal is acceptance of these terms. The bidder waives any and all claims based on CDE's release of such information.
Last Reviewed: Monday, August 15, 2016