Weekly COVID-19 Update: Friday, April 24, 2020
---
From: Office of the State Superintendent of Public Instruction
Date: April 24, 2020
---
All Coronavirus (COVID-19) SSPI Communications
Please check back regularly to www.cde.ca.gov as we are constantly updating it with valuable and timely information. To subscribe to this weekly update, please email join-covid19-update@mlist.cde.ca.gov.
If you aren't already following us on social media, please find us on Facebook at @CAEducation and on Twitter @CADeptEd for updates throughout the week. We post most all of our webinars on Facebook Live, and then the videos are archived for future use as well.
Want to help us close the digital divide? If you want to donate technology items or money to purchase technology, email donatetech@cde.ca.gov
Do you have general COVID-19 questions, not previously addressed on our website? Email us at
COVID19@cde.ca.gov
Announcements & News Releases
State Superintendent Tony Thurmond Featured on CNN April 23, 2020
Superintendent Thurmond was invited to appear on CNN Live with host John King to discuss the challenges schools are facing in the throes of the pandemic.
View the segment: https://www.facebook.com/CAEducation/videos/952785518473633/
Superintendent Thurmond Facebook Live Address April 22, 2020
https://www.facebook.com/CAEducation/videos/520194215323369/
Closing the Digital Divide Task Force Fact-Finding Hearing April 20, 2020
https://www.facebook.com/CAEducation/videos/3237582676254877/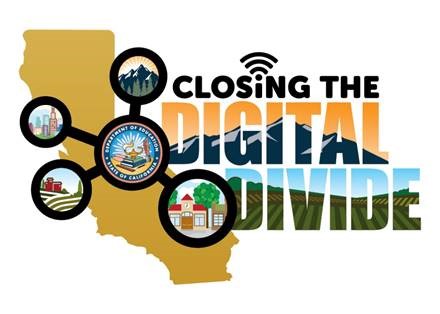 Next Meeting of the Closing the Digital Divide Task Force is Monday, April 27, 2020.
LCAP Executive Order Released by the Governor April 23
https://www.gov.ca.gov/wp-content/uploads/2020/04/EO-N-56-20-text.pdf
LCAP FAQs Released from CDE April 24
These FAQs will be posted today at https://www.cde.ca.gov/re/lc/.
Free Learning From Home
The CDE and WestEd havedeveloped a free online survey for schools and districts to assess students' online learning experiences, educational routines, quality of relationships with teachers and peers, and social emotional well-being. This survey is available at NO COST to districts and can provide valuable information to support districts in creating an online learning community that promotes student wellness. Survey results will be available on an online platform. This survey does not include items that require parental consent. For more information or sign up for the survey go to the California School Climate, Health, and Learning Surveys website at https://calschls.org/.
Federal Updates
The U.S. Department of Education (ED) released the Elementary and Secondary School Emergency Relief Funds on Thursday, April 23, 2020. State chiefs werenotified of their allocation amounts last week. ED has streamlined the application and approval process, which will be similar to the Governor's Fund. Stay tuned for more information.
FEMA Funding Reminder—EXTENDED
Request for Public Assistance: FEMA has extended the due date for submittal of the Request for Public Assistance (RPA) to 30 days after the incident period for the disaster event closes, however, Cal OES is advising organizations to submit sooner rather than later, so as not to wait until the last minute.
Any school district, county office of education, or directly-funded charter school that has incurred, is incurring, or may incur costs categorized as "emergency protective measures" related to the COVID-19 response should file an RPA in order to be eligible for reimbursement.
LEAs may fund these types of expenses with their allocated SB 117 COVID-19 LEA Response Funds. If state funds do not meet an LEA's total need, FEMA Public Assistance may be able to address the gap.In order to ensure LEAs have maximum flexibility to pursue federal funding to support COVID-19 response, CDE encourages all LEAs to file an RPA as soon as possible.
The Governor's Office of Emergency Services (Cal OES) has information and training for local governments (including LEAs) on the RPA application process and federal procurement rules on their COVID-19 recovery web page: https://www.caloes.ca.gov/cal-oes-divisions/recovery/covid-19.
FEMA's March 19, 2020 Fact Sheet describes emergency protective measures in more detail: https://www.fema.gov/news-release/2020/03/19/coronavirus-covid-19-pandemic-eligible-emergency-protective-measures.
LEA questions about FEMA Public Assistance and the RPA deadline can be directed to Cal OES at PAProcurement@caloes.ca.gov.
Program Updates
Audits and Investigations Division
Time and Effort Requirements—The CDE developed a new FAQ for time and effort requirements for federal programs to provide clarification regarding how these requirements apply during the COVID-19 pandemic. The COVID-19 Time and Effort Requirements FAQ is located on the CDE COVID-19 web page at: https://www.cde.ca.gov/ls/he/hn/coronavirusadtlinfo.asp#schlfiscbussvcs.
English Learner Support Division
The English Learner Support Division (ELSD) is publishing two weekly newsletters during COVID-19 school closures. The Distance Learning Parent Newsletter is a weekly newsletter focusing on a different distance learning topic in each issue and will be available in the top five languages starting this week.This week's topic is multilingual education. The ELSD also publishes a weekly English Learner Updates Newsletter for local educational agencies. This newsletter includes the latest information and resources related to English learners, immigrant, and migrant students. The latest issue includes information on funding and spotlights the Sanger Unified School District's English language development model for distance learning.
ELSD newsletters may be found at:
https://www.cde.ca.gov/sp/el/er/elnewsletters.asp.
Nutrition Services Division
This week's COVID-19 School and Child and Adult Day Care Meals Guidance update includes additional resources to support your food service operations during the COVID-19.
What's New:
The Resources section was updated to include links to a COVID-19 on-demand webinar series by the School Nutrition Association and several CDE Child Nutrition Program fact sheets:
Child Nutrition Program Flexibilities During COVID-19
Serving Summer Meals During School Closures Due to COVID-19
Safe Food Handling Practices During COVID-19, COVID-19
Health and Safety Considerations During Food Service Preparation and Delivery
Child Nutrition Programs Community Engagement Response to COVID-19
Webinars - Recap and Upcoming
Recap of This Week's Webinars:
Assessment, Accountability, and Dashboard Coordinators (April 21, 2020)
View it here: https://twitter.com/scoeassessments
Federal Funding Flexibility in Response to COVID-19 (April 23, 2020)
Available for viewing next week: https://www.cde.ca.gov/ls/he/hn/covid19webinars.asp
Part Three: Supporting You Supporting Students: Providing Tools for the Challenging Times
View it here: https://www.wellnesstogether.org/
Part Four: "Distance Learning Innovations in Special Education—Addressing Mental Health and Behavior" (April 23, 2020)
View it here: https://www.facebook.com/CAEducation/videos/949487072138113/
Implementing Universal Design for Learning (UDL) in a Distance Learning Environment (April 24, 2020)
View it here: https://www.facebook.com/CAEducation/videos/223912608906107/
Upcoming Webinars:
Career Technical Education (CTE) Distance Learning (April 30 at 11 a.m.)
CTE teachers are most often teaching in equipment-rich shop and lab environments, so the transition for those programs and students to remote learning presents a different set of challenges. This webinar will discuss tools for implementation, best practices to approaching CTE,and continuing to support students and teachers in a e-learning environment for the jobs of tomorrow.
To register, go to https://cdevideo.zoom.us/j/91942181435
Password: 181642
Part Five: "Supporting Students with Extensive Support Needs, Low Incidence Needs and Related Services" (April 30, 3 to 4 p.m.)
This webinar will feature speakers from throughout California who will discuss supporting students with extensive support needs and low incidence disabilities as well as providing related services and supportsduring the COVID-19 pandemic from the larger perspective to the classroom and individual student level. Presenters will include education specialists, speech and language pathologists, adaptive physical education specialists, occupational therapists and other service providers. Information discussed will include considerations, supports, services and resources to help teachers and families address the needs of students during the pandemic.
https://cdevideo.zoom.us/webinar/register/WN_NwlkZzd2Sk6ThfDF-0OtjA

Last Reviewed: Wednesday, April 29, 2020