Weekly COVID-19 Update: Friday, May 1, 2020
---
From: Office of the State Superintendent of Public Instruction
Date: May 1, 2020
---
All Coronavirus (COVID-19) SSPI Communications
Next week is "Teacher Appreciation Week" and we want to make sure that we all take the time to thank our teachers for their resilience and incredible efforts to continue our students' education through distance learning.
Please check back regularly to www.cde.ca.gov as we are constantly updating it with valuable and timely information. To subscribe to this weekly update, please email join-covid19-update@mlist.cde.ca.gov.
If you aren't already following us on social media, please find us on Facebook at @CAEducation and on Twitter @CADeptEd for updates throughout the week.
If you want to donate technology items or money to purchase technology, please email donatetech@cde.ca.gov.
If you have general COVID-19 questions, not previously addressed on our website, email COVID19@cde.ca.gov.
Announcements & News Releases
State Superintendent Tony Thurmond Featured on CNN April 28, 2020
Superintendent Thurmond was invited to appear on CNN Live with host Don Lemon to discuss the possibility of school's opening earlier.

Chief Deputy Superintendent Stephanie Gregson on CNBC on April 30, 2020

Chief Deputy Superintendent was invited to appear on CNBC with host Scott Wapner to discuss the current landscape of public education in California and what we have planned for the fall.

View the segment here: https://www.cnbc.com/video/2020/04/30/california-wrestles-with-appropriate-time-to-open-schools-digital-divide.html.

State Superintendent Tony Thurmond and Closing the Digital Divide Task Force Call for Free Internet for California's Students

https://www.cde.ca.gov/nr/ne/yr20/yr20rel31.asp

Superintendent Thurmond Hosts First Virtual Parent Support Circle

https://www.cde.ca.gov/nr/ne/yr20/yr20rel30.asp

New Benefit Program to Help Food Insecure Students

https://www.cde.ca.gov/nr/ne/yr20/yr20rel29.asp

Superintendent Thurmond Creates New Committee to Focus on Loss of Learning

https://www.cde.ca.gov/nr/ne/yr20/yr20rel28.asp

Superintendent Thurmond Working with Leaders on Schools Reopening

https://www.cde.ca.gov/nr/ne/yr20/yr20rel27.asp

CDE Communications Monthly Newsletter "Currents" Released April 30

https://www.cde.ca.gov/re/di/nl/cdecurrentsapril2020.asp#Strongertogether

Closing the Digital Divide Task Force Meets on Monday, May 4, 2020, at 4 p.m. This meeting will be streamed on Facebook Live at Facebook.com/CAEducation or https://www.facebook.com/CAEducation.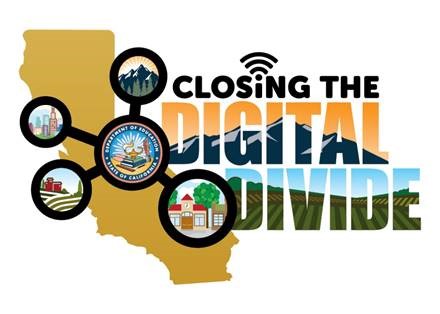 Supporting Social and Emotional Learning During Physical Distancing

Relationships matter! Although our educators are practicing physical distancing from their students, it does not mean that students must lose social connections. In fact, social and emotional connections are more important than ever.

The California Department of Education (CDE) is recruiting volunteers to participate in a new team that will identify and help disseminate best practices to provide social and emotional supports for students and educators, including practices to support one another during physical distancing. Team members will focus specifically on one of the following subtopics: policy recommendations, resources, or development of social and emotional learning (SEL) competencies.

If you are passionate about supporting SEL and are able to volunteer your time, please complete the State Social and Emotional Learning Workgroup Application by 4 p.m. on May 15, 2020. There will be a mandatory all-day virtual meeting on June 4, 2020.

Additional information regarding this important work is available on the application. If you have any questions regarding this invitation to apply, please contact Susie Morikawa at smorikawa@cde.ca.gov or Julia Agostinelli at jagostinelli@cde.ca.gov, Education Programs Consultants, at the CDE.
Federal Updates
U.S. Department of Education (ED)
The California Department of Education received approval of its grant application for California's share of the Elementary and Secondary School Emergency Relief (ESSER) Fund as authorized under the CARES Act. The State of California will be receiving $1,647,306,127. 90 percent of these funds will be allocated to LEAs based on Title I, Part A formulas.
FEMA Funding Reminder—EXTENDED
Request for Public Assistance: FEMA has extended the due date for submittal of the Request for Public Assistance (RPA) to 30 days after the incident period for the disaster event closes, however, Cal OES is advising organizations to submit sooner rather than later, so as not to wait until the last minute.
Any school district, county office of education, or directly-funded charter school that has incurred, is incurring, or may incur costs categorized as "emergency protective measures" related to the COVID-19 response should file an RPA in order to be eligible for reimbursement.
LEAs may fund these types of expenses with their allocated SB 117 COVID-19 LEA Response Funds. If state funds do not meet an LEA's total need, FEMA Public Assistance may be able to address the gap. In order to ensure LEAs have maximum flexibility to pursue federal funding to support COVID-19 response, CDE encourages all LEAs to file an RPA as soon as possible.
The Governor's Office of Emergency Services (Cal OES) has information and training for local governments (including LEAs) on the RPA application process and federal procurement rules on their COVID-19 recovery web page: https://www.caloes.ca.gov/cal-oes-divisions/recovery/covid-19.
FEMA's March 19, 2020 Fact Sheet describes emergency protective measures in more detail: https://www.fema.gov/news-release/2020/03/19/coronavirus-covid-19-pandemic-eligible-emergency-protective-measures.
LEA questions about FEMA Public Assistance and the RPA deadline can be directed to Cal OES at PAProcurement@caloes.ca.gov.
Program Updates
Early Learning and Care Division
Guidance on Cleaning Supplies for Child Care Providers
The Early Learning and Care Division (ELCD) and Fiscal Administrative Services Division released guidance on funding for cleaning and supplies for child care providers. These funds will be distributed to Resource and Referral (R&R) agencies who will then distribute funding and resources to providers in their area. In addition, the ELCD has provided guidance to R&R agencies and other contractors about existing funding that can be allocated for cleaning supplies and personal protective equipment to align with the established COVID-19 guidelines on health and safety practices in child care settings.
English Learner Support Division
The English Learner Support Division (ELSD) is publishing two weekly newsletters during COVID-19 school closures. The Distance Learning Parent Newsletter is a weekly newsletter focusing on a different distance learning topic in each issue. This week the topic is multilingual education. Starting this week, the parent newsletter will be available in the top five languages. The ELSD also publishes a weekly English Learner Updates Newsletter for local educational agencies. This newsletter includes the latest information and resources related to English learners, immigrant, and migrant students. This week's issue includes information on funding, accountability, and FAQs on the State Seal of Biliteracy.
ELSD newsletters:
https://www.cde.ca.gov/sp/el/er/elnewsletters.asp
Expanded Learning Division
The California Department of Education (CDE), Expanded Learning Division (EXLD) is pleased to announce that the After School Education and Safety (ASES), 21st Century Community Learning Centers (CCLC), and the 21stCentury High School After School Safety and Enrichment for Teens Program Grants will be extended until December 31, 2020. We are working on an amendment to the AO-400 grant agreement. We will be adding additional grant assurances for the grant extension time period. Once this is completed, the amended grant award for Fiscal Year 19–20, will be emailed to all grantees to sign and return. This will be done electronically.
For more information, send a message to ExpandedLearning@cde.ca.gov.
The EXLD has issued guidance regarding the role of expanded learning programs during the COVID-19 crisis.
https://www.cde.ca.gov/ls/ex/covid19programroles.asp
Nutrition Services Division
This week's COVID-19 School and Child and Adult Day Care Meals Guidance includes the following:
The Policy Overview section under the Recent Update header provides an overview of a new USDA meal service waivers issued on April 21, 23, 24, and 27, 2020.
The Requirements for School Meals During COVID-19 section was updated with new information on Monitoring Requirements and the Pandemic Electronic Benefit Transfer (P-EBT) program. Also, the Summer Food Service Program reimbursement chart was updated to reflect the 2020 rates.
The Frequently Asked Questions section was updated with seven new responses to questions related to procurement and contracts, Head Start home delivery options, P-EBT, and school health inspections.

Webinars - Recap and Upcoming
Recap of This Week's Webinars:
Changes to the Local Control and Accountability Plan Process and Timelines (April 28, 2020)
View the webinar slides: https://www.cde.ca.gov/fg/aa/lc/documents/tues2eolcapchanges.pdf.
Parent Support Circle Webinar (April 29, 2020)
View it here: https://www.facebook.com/CAEducation/videos/548326639203266/.
Career Technical Education (CTE) Distance Learning (April 30, 2020)
View it here: https://www.facebook.com/CAEducation/videos/170592957553601/.
Part Five: "Supporting Students with Extensive Support Needs, Low Incidence Needs and Related Services" (April 30, 2020)
View it here: https://www.facebook.com/CAEducation/videos/248808846361368/.
Upcoming Webinars:
Webinar and Guidance on Emergency Closures during the COVID-19 State of Emergency (May 1, 2020, at 10 a.m.)
The Early Learning and Care Division (ELCD), in partnership with the Fiscal and Administrative Services Division (FASD), released Management Bulletin (MB) 20-11: COVID-19 Guidance: Emergency Closures on April 28. This MB provides guidance to state-subsidized early learning and care programs about funding during an emergency closure due to the COVID-19 State of Emergency. This webinar will provide guidance and address a series of questions related to emergency closures.
Educator Support Circle (May 7, 2020, at 4 p.m.)
Join Superintendent Thurmond as he hosts a webinar specifically to provide support for educators during COVID-19. This webinar will be streamed on Facebook Live at https://facebook.com/CAEducation.
Support for Distance Learning: the History-Social Science and English Language Arts/English Language Development Frameworks (May 14, 2020, at 10 a.m.)
Sponsored by the Curriculum Frameworks and Instructional Resources Division.
Supporting English Learners in Distance Learning (May 14, 2020, at 1 p.m.)
Sponsored by the English Learner Support Division.
Deaf Education Webinar (May 14, 2020, at 3 p.m.)
Presenters from the California Schools for the Deaf in Fremont and Riverside.

Last Reviewed: Monday, May 4, 2020